MESSAGE FROM THE PRESIDENT  
of Zervas Art Club in Lebanon
Dr. BURHAN J HASSOON
Dar 20 , Zukak 28 ,Mahala 327Sabah Alkhayat Sq. Hay Ur, AlRisafa,Baghdad,Iraq / +96 475 0085 9967 / zervasartclublebanon@gmail.com 
YOU'RE WELCOME TO OUR SPECIAL WORLD OF ART CULTURE & SCIENCE
Dear all
Its an honour to inform you all that I have been appointed by World Federatoin of  Zervas Art Clubs as (president of Zervas Art Club in LEBANON).
Taking this great opportunity to declare an open invitation for all artists in Lebanon  to share in the establishment, subscription and participiation in our club.
I'd like to thank the ( World Federation of Zervas Art Clubs ) and it's founder( MR Pansgoitis Milts Zervas) for thier support and promotion this UNESCO affiliated CLUB in
LEBANON for propagating artistic ,cultural and scientific activities of lebanes artists  across the whole world aiming to propagate their talents and creation to strengthen
love , Art and peace between peoples…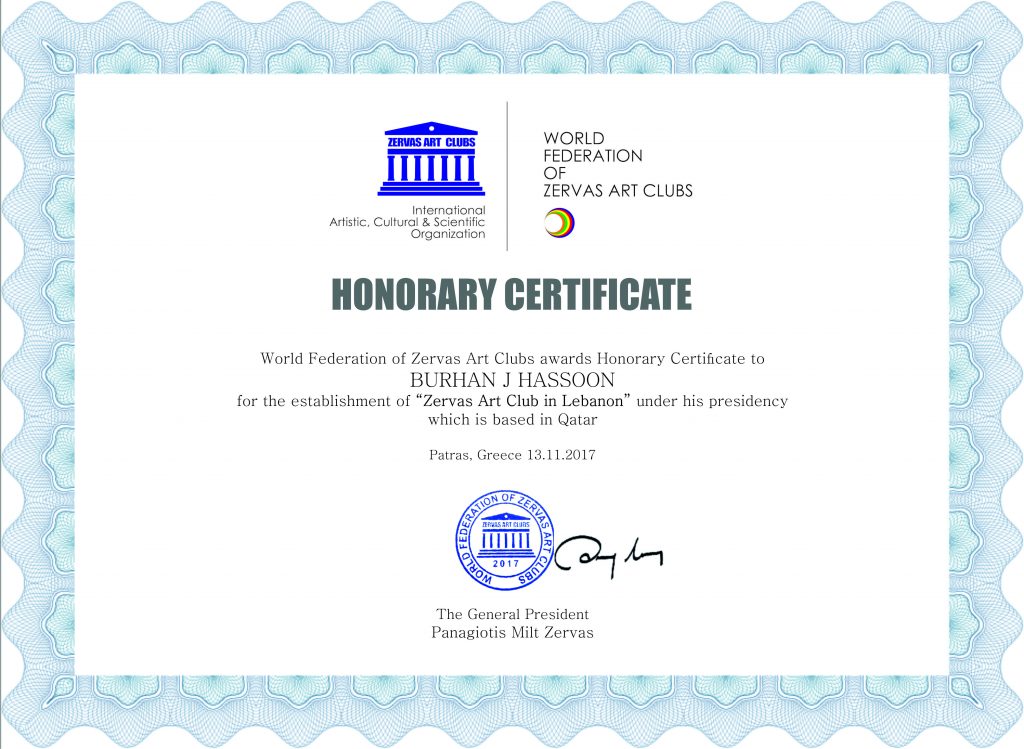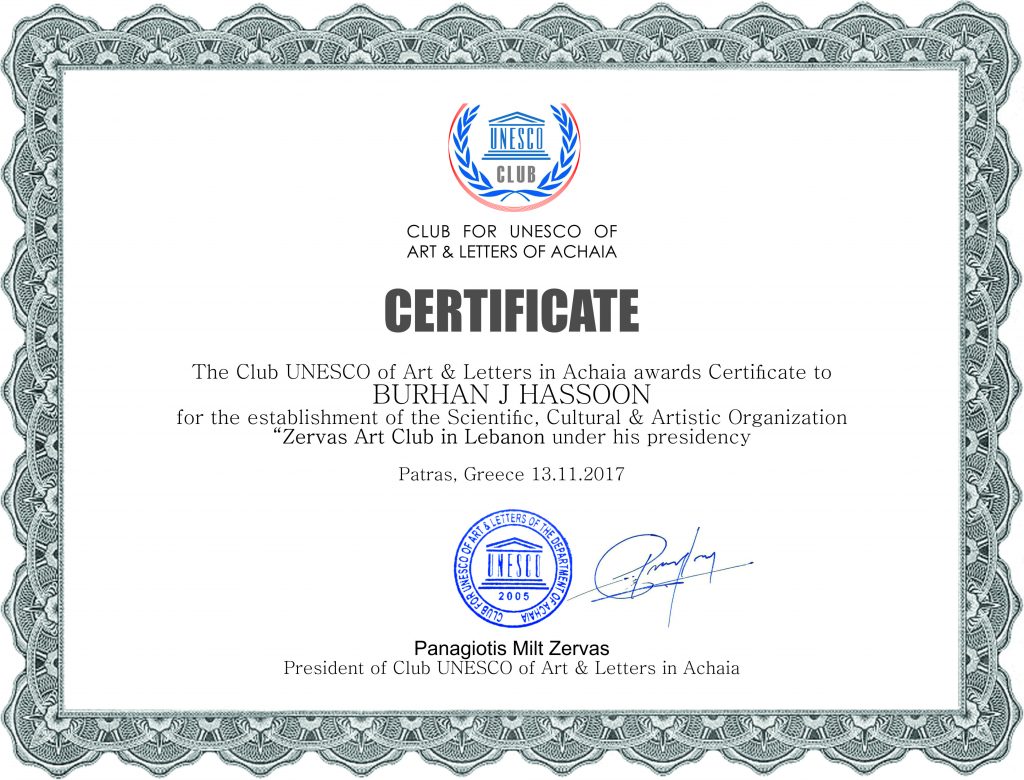 CV

OF THE PRESIDENT

Dr. BURHAN J HASSOON

President of Zervas Art Club in LEBANON
Plastc Artist (Painter) & Doctor
Plastic Artist,Writer & a Doctor from Iraq
Member of Artists Association ,Plastic artists Society and Medical Association.
A graduate from Baghdad and Wales ,UK Universities.

* 5 Solo Exhibitions (Baghdad, Iraq)  held on:Fine Art Academy National Museum for Modern Art Al- Nasir ,Al-Nasir , Al-Riwaq  and Innana Galleries  * 2 ( Beirut, Lebanon) Zamaan Gllery,2012.  * Many Collective Exhibitions in Iraq including: Iraqi Universities Exhibition Youth Exhibition in Sulaymania1977  |  Doctors –Artists Exh 1987  |  Al-Wasiti Festival 1993  |  Babylon International Festival 1993,1997  |  Art Day Festival 1994  |  Iraqi Contemporary  Art Exhibition in France, Jordan, Tunisia and Sudan1998  |  Iraqi Artists Annual Exh.1995,1999,2000 and in Al-Anda Gallery in Am  |Joint Exh, with artist Hameed Yaseen ,Al-Riwaq Gallery,2000

Many collective exhibitions in Al-Orfali , Al-SarrafAien, Inanna, Al-Mezan  private galleries in Baghdad

*Many International Collective Exhibitions including:

 1989:National Wales Exhibition(UK)  1995,Contemperary Iraqi Art Exhibition(Jordan , Palestine,Tunisia ,Sudan,France) 2011-2017:  * Palette Irakinnes-Zamaan ,Beirut, Sep. 2013.  * Hurghada Festival , Egypt, Jan. 2014.  * Al-woroud Festival, Moroco, April 2014.  * Crete Fair ,Greece ,Sep. 2014.  * Zawia Tachkilia,Bial , Beirut , Lebanon, 2015.  * Pancevo Symposium,Serbia,June 2015.  * Chitrashaala Festival, India , Nov.2015 .  * A ley, Mleta,  Sour,Khardaly and Tripoly Symposiums, Lebanon,Aug. 2015.  * U.A.Emirates , Dubi ,April 2016.  * AL-Monastaier Art Workshop,Tunesia, Sep.2016

* Vieena Art Workshop ,Austria, April 2017.

* Has many Published works in Poetry ,Sociology ,Art and  Medicine.
Burhan Hassoon and his Artworks
–  Iraqi plastic artist ,poet and doctor.
–  He showed a marked enthusiasm in arts and literature since his childhood when he started drawing and writing .
–  He insisted to hold his first solo exhibition in the academy of fine arts in Baghdad at 1978 while he was a medical student.
-Graduated from Baghdad(Iraq) and Wales(UK) universities    
– Has many solo and collective  exhibitions in and outside Iraq  including : Iraq..UK, Jordan ,Lebanon ,Egypt ,Morocco, Greece ,Serbia, India , Canada ,Emirates ,Tunisia ,Austria …. many publications in public health , poetry , art and social criticism.
–  During his prolific and active work, he exhibited more than 50  solo and collective exhibitions in 30 countries by about 50 travel visits in and outside Iraq including: Jordan, Lebanon ,Egypt, Morocco, Greece ,Serbia, India , Emirates , Canada ,Tunisia ,Austria…  including workshops ,camps ,symposiums ,festivals , colonies and other activities.
–  While  practicing  different art styles, he showed an interest in   abstract where he found himself as he described.
His Artworks
" Abstract gave me unlimited freedom to express myself and  releasing my passions through a virtual window to the unconsciousness,  where I can say by painting what I want to  , I believe that art should be free in reflection of thoughts , insights, dreams and complaints, and it is an activity to reflect the interiors by artworks. For me abstract is a shortcut skipping irrelevant details such as identities nationalities , religions , countries, races , languages , colors , figures  and even deals with complex issues in a plastic simplicity to portray  complains just with the fewest constructions and  colors during a temporary leave or fuge from reality ..A location or station  I'd like to call" the Aesthetics of the Mess" Herein the nicest description I have ever heard bout my works: your scribbles are nice artworks.