5th PARIS ART SYMPOSIUM
Arrivals:  25/01/2020 
–

  Departures: 30/01/2020
International Painting Symposium 
| 

Master Classes
Cultural Voyage 
|

  International Painting Exhibition 

|

  Online Painting Exhibition
8h Free City Tour in Paris
140 Distinguished artists 
| 

38 countries
LIVE ARTISTIC CREATION IN THE CITY OF LIGHT


INTERNATIONAL PAINTING SYMPOSIUMS 
The official Artistic Symposiums in the history of  art. 
The international Painting Symposiums  founded at 1999 in Greece from the "
Zervas Art"
under the Aegis of: UNO, UNESCO, Greenpeace, Action Aid, Medesines Sans Frontiers. More than 8.000 professional high level artists from over 120 countries have participated until today.
It Is a live artistic – scientific project which supports the communication between countries and people despite the differences or similarities.
Distinguished Artists and Professors from the whole world create in parallel, communicate, collaborate and live together the great artistic experience of the dialogue with the maternal language of ART.
The belief that art is awakening and revolutionizing hypnotized societies and consciences is the base of the Academic Symposium which supports the life creation on the "white canvas". 
GET THE UNIQUE PRIVILEGE 
be member in the artistic community of the 5th Paris Art Symposium 
INVITATION
World Federation of Zervas Art Clubs, Club for UNESCO of Achaia,  and "Zervas Art " have the great honor
to invite you in the works to the famous cultural organization 5th PARIS ART FAIR "International Painting Symposium" MASTER CLASSES
that will be realized in the Congress hall of NOVOTEL PARIS EST hotel.
Confirm your participation "as soon as possible" to meet with great artists from the whole world and live creative artistic moments
in the main artistic and historical meeting.
WE PROVIDE VISA OFFICIAL INVITATION  &  HOTEL RESERVATION
FREE PRIVATE CITY TOUR  8h
TO THE MOST IMPORTANT MONUMENTS OF PARIS  
Free transportation from the hotel to the most importand monuments with private bus of the organization   
VISA OFFICIAL LETTER | HOTEL RESERVATION (contact us)
 PROGRAM
25 January | Arrivals in the Hotel  |  Welcome Dinner 21:00
26 January | FREE CITY TOUR  8 hours 
27 January | Free day to visit Paris monuments 
28 January | 11:00   Master Classes – Workshop  | 14:00 meal  |  Video Interview | Free night 
29 January | 10:00   Workshop | 14:00 meal  |  19:00 Exhibition – Certificates | Dinner-party
30 January | Departures 
The live artistic creation of the 5th Paris Art Symposium will take place in the Congress hall of the hotel.
Artist are free to work and create for 2 days from 10:30 until 19:00

The 2 dinners will take place in the restaurant of the hotel, and other restaurantat 21:00 o clock with soft drinks.

The 2 meals of every working day will take place in the working place the at 14:00 o cock

Paris Airports are about 40-50 min from the Hotel.

The city center is 15 min by metro

The Master Classes will take place in the Hotel congress hall  

Contact us for your visa invitation
THE HOTELS OF THE SYMPOSIUM 
1. NOVOTEL PARIS EST HOTEL 
The artistic
works

of the 5th Paris Art Symposium will take place in the luxury Meeting Room of Novotel at the dates 28 & 29 January 2020
100m from Gallieni Metro
Stop

| 15′ from Eiffel Tower | 20′ from Louvre museum | 100m from RESEDA Hotel 

1 Avenue de la République, 93177 Bagnolet, Paris   | +33 1 49 93 63 00
 
2. RESEDA HOTEL 
The artists'
staying

will be reallized in the Reseda Hotel in "double twin rooms" from 25-30 January 2020
20′ from Louvre Museum | 100m from NOVOTEL  | 100m from

Gallieni Metro Stop

| 15′ from Eiffel Tower 
 2 Avenue du Général de Gaulle, 93170 Bagnolet, Paris  |  +33 1 49 72 63 00 
BASIC INFORMATION
DATES:  Arrivals:  25/01/2020    –    Departures: 30/01/2020
ACCOMODATION
NOVOTEL PARIS EST: will take place the Symposium in the meeting room of Novotel
RESEDA HOTEL: Free with breakfast  5 stays in double twin room | extra day: 80€ per day | Single room: 40€
Meal: every working day (2) free light meals
Dinners: 2 free dinners + free soft drinks or wine    
REGISTRATION FEE 5 stays
Artists: 850€  |  Artists without hotel (full program): 480€   |  Visitors: 920€ 
Advance for Registration 250€  / Pay off in Paris at 25/01/2020
AWARDS
Diploma from Club UNESCO of Achaia
Award from the World Federation of Zervas Art Clubs
Diploma for the participation in the Master Classes
Gold Medal of Zervas Art
WHAT WE PROVIDE
5 nights accommodation | Daily breakfast | 8h Free City Tour in Paris monuments | 1 free day to visit Paris  | 2 light meals | 2 Dinners Gala | 1 Party | Promotion in 160 countries | Post in Facebook & Instagram | 3 documents (posters) | 2 Certificates from Zervas Art Foundation | 1 Certificate from Club UNESCO | Gold medal of Zervas Art | Official Visa Invitation | Hotel reservation | 2 days workshop | Canvases + easels | 2 Master Classes | Painting Exhibition in the working place | Online Exhibition for free | 2 days Symposium in Novotel Paris Est Congress Hall | 5 Stays in Reseda Hotel 
GENERAL INFORMATION
Art works: every artist can create 1-2 paintings  /  Dimension: 80cm x 100cm  
Collection: the paintings will be added in "Zervas Art Collection" (8000+ paintings)
Materials: the artists will bring colors, brushes & special materials.
The organization  provide canvases and easels.
UNIVERSITIES / ACADEMIES / COLLEGES SCHOOLS / GROUPS
Professors  & Students are welcome to participate in the great artistic experience with different terms.
The event is supported by Hi Fi system & Projector
NEW: Free Seat in the ONLINE ART GALLERY for 3 years to promote your artworks
WELCOME TO PROMOTE YOUR ART TO THE WORLD
160 countries  |  12 profiles  |  18 communities  |  55.000 friends  |  8.000 artists
18.000.000 annual viewers in the social media | 5.500.000 annual visitors in the event  website
6.500.000 annual viewers of Facebook & Instagram | 500.000 annual local
viewers in social media.
---
MASTER CLASS
MASTER CLASS / CONGRESS Famous artist, Philosophers, Historians of art will give Master Class – Congress for all the artists and the visitors.
Free entrance for all.
Please inform us if you are interested to be speaker in the Master Class – Congress.
LIVE CREATION in the
5th

PARIS ART SYMPOSIUM
ARTISTIC DIALOGUE WITH FAMOUS ARTISTS FROM THE WHOLE WORLD
Art is the international maternal language and the axis to communicate   countries, cultures & people, without differences
PAYMENT
|

advance deposit 

To complete your Official Registration please deposit the advance of 250 euros via:

Bank Name : PIRAEUS BANK

IBAN: GR43 0171 5690 0065 6914 2102 115

Account No: 6569-1421-02115

BIC-SWIFT: PIRBGRAA

Receiver Name: PANAGIOTIS ZERVAS ( MILTIADIS)

Bank address: Korinthou 224, PATRAS  26221 Greece

Zervas Art address: 9 Androutsou str, Ag. Vasileios 26504  Patras, Greece 

Tell: +30 2610 994 804  | Mob: +30 6975 758 967   |  e-mail: zervasart@gmail.com

VISA OFFICIAL LETTER | HOTEL RESERVATION (included)
GET REGISTERED & PRESENT YOUR "MASTER CLASS"
"World Federation of Zervas Art Clubs" & "Club for UNESCO of Achaia" have the pleasure to invite you in order to present your  MASTER CLASS in the works of the  International Painting Symposium 5th PARIS ART FAIR.
The participants of the  International Painting Symposiums by "Zervas Art" are welcomed to participate in the Master Classes!!!
In the artistic / Academic works of the International Painting Symposiums by "Zervas Art" are included and take place the INTERNATIONAL ARTISTIC MASTER CLASSES. 
The project offers extra CERTIFICATE to the artists who give the class with the signature of "Zervas Art" and "Club for UNESCO of Achaia", that is Valuable for your Academic & professional career .
To your Master Class, it's your own presentation so you can tell whatever you want around your art and your artistic career. You can speak about you, your cv, your artworks ,your techniques etc.
Your Presentation can lasts 20 minutes.
In the presentation of your master class will attend : The participants of the symposiums, local art lovers-visitors. 
Aply and confirm as soon as possible. We will answer to you after 5 working days.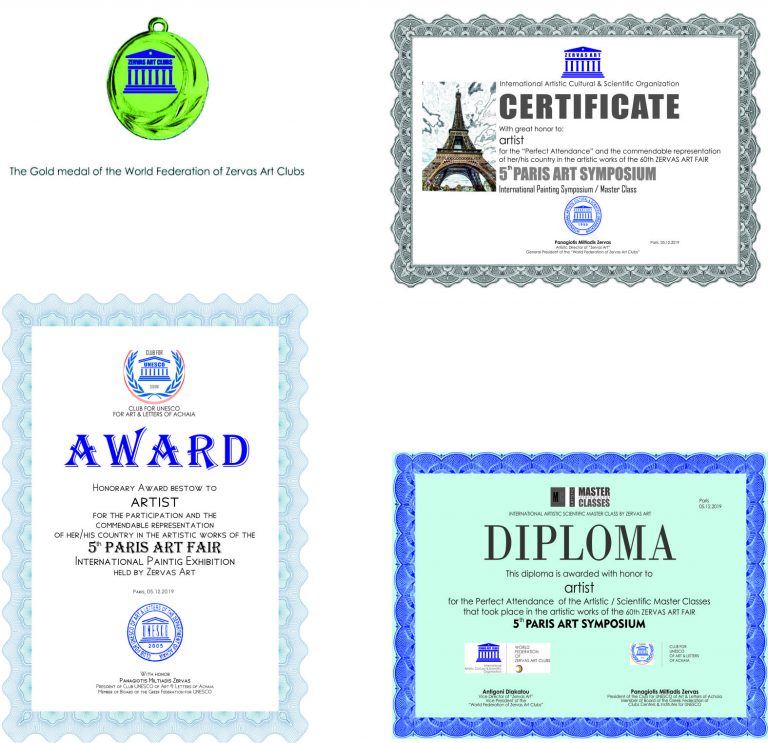 3 Valuable Certificates 

+

 1 Gold Medal  

will be awarded to

 EVERY PARTICIPANT ARTIST 

Get the Privilege  &  Fill the Form :
I confirm my interest to be registered and participate in the artistic works of the 5th PARIS ART FAIR
Contact us 
zervasart@gmail.com 
+30 2610 994 804 
9 Androutsou str | Rion 26504 | Patras | Greece 

Panagiotis Milt. Zervas  
President of 

the World Federation of Zervas Art Clubs  &

 

Club for UNESCO of Achaia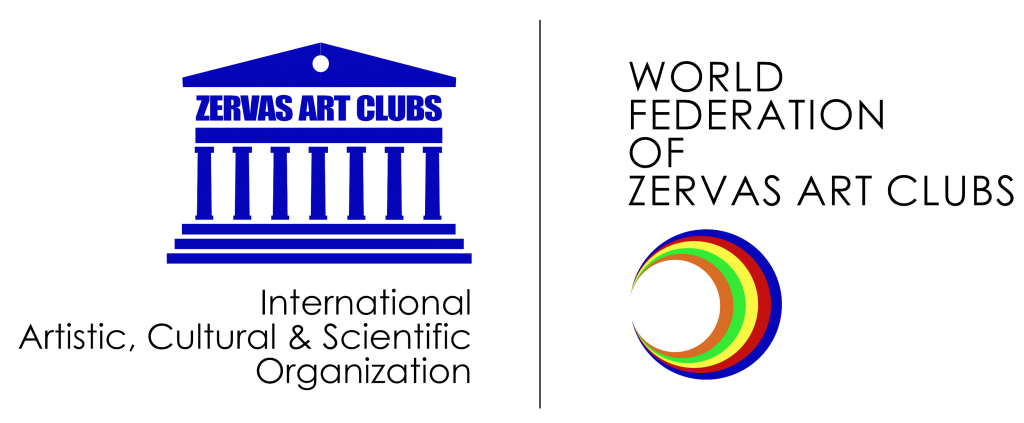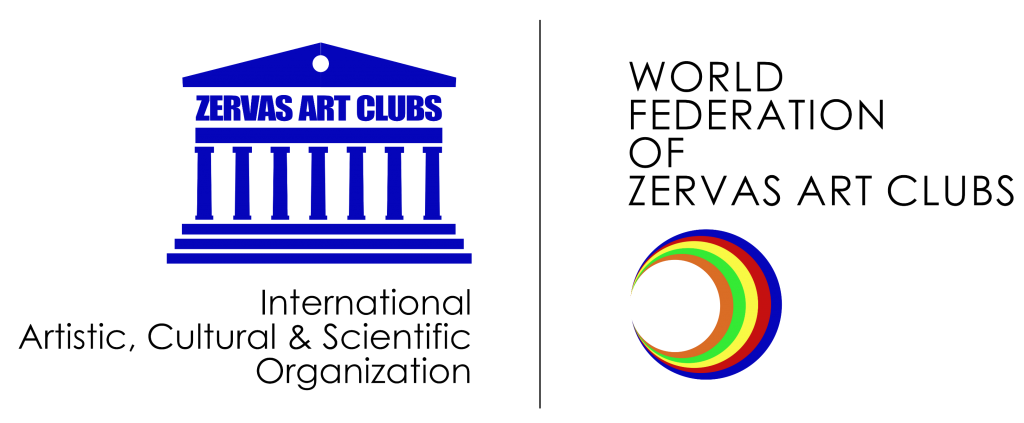 FOLLOW "ZERVAS ART" IN SOCIAL MEDIA