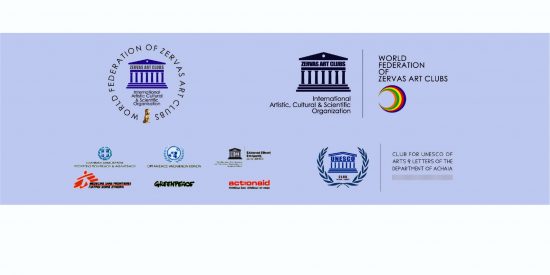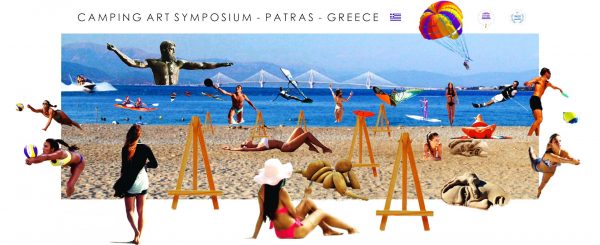 Every dialect of art, every level of artist, every grammar of painting can participate …to the international artistic dialogue to create and discuss with colors and give to the visitors the only one luxury experience to follow the building of one artwork.
Zervas Art, since 1999  until today is activated into 70 countries, having scratch out an important and continuously arisen route. In addition,  have created an international stream of art and artists, which influences or and directs, in many cases, the international market of art.
Zervas Art, created in 2006 the International Scientific Artistic Committee (I.S.A.C.), which is constituted by 20 artists/professors from Universities of fine Arts from 20 countries, which hold meetings frequently by mails, for the program, the research and generally for the important matters which concerns each period.
International Art Symposiums are the most important annual scientific and artistic organization of Zervas Art. Every year organize 12-15 artistic and scientific events and participate almost 500-700 selected and internationally awarded artists/professors from Universities and Academies of Fine Arts as well.
At 2017 created the "World Federation of Zervas Art Clubs" and today is based in 35 countries with 40 Zervas Art Clubs… 

Zervas Art International Painting Symposiums isn't another one academician event that will make art critic or will sale paintings to the lovers of art.
Many theorists talk about art and artists but understand and feel so little…because they stay frond of one completed picture and try to say what they remember and what they read about art and of course they talk about something that they can't do. "Only the artist can stay frond of the empty and white canvas and try to put life's color and light on the "absolutely white" that is more difficult level from the black dark".  
Painting Symposiums of Zervas Art is one "open" international artistic workshop and from the 1st organization at 2002 touched the soul of creators and creation, because is one international palette, because is international artistic dialogue with the language of art, because accept as advantage the differences, because born and support the artistic creation as answer that no one asks.
At the Symposium moment the artists are free to create what  the galleries and collectors don't need… the communication between countries ,cultures and differences acts like power that the artist never can has in his working place's palette, where he must be absolutely alone. In Symposium moment the words aren't so important, also the words are so poor to explain the mystery of life and the mystery of art that is the last hope in the human soul.
The maternal official, and international language of art is the basis of Painting Symposiums, which is so enough for the communication of people, with similarities and differences. Every dialect of art, every level of artist, every grammar of painting can participate to the international artistic dialogue to create and discuss with colors and give to the visitors the only one luxury experience to follow the building of one artwork.
"International Painting Symposiums of Zervas Art, love and respect all the artists as creators, but first of all… try and offer one reason for creation without conditions and limits….without reason, as an answer to someone who never asked…!" Civilization is so long term application to cover our range… but is the only way.
ZHAM MAGAZINE INTERVIEW
byAnna Givargizian
AUSPICES & SUPPORT
The official Auspices from the greatest International Organizations is the guarantee of the amazing artistic experience in the history of art.
Panagiotis Mil. Zervas: I was born in Rion, Patras, Greece in 1962, I did the necessary studies in the secondary education and didn't continue studies higher education because it was tiring and I didn't saw the reason to do it.
Before the symposiums my life was very lonely in a very narrow context… the journey had to begin. Than all change… everything! For me the occupation with art was a one-way. And so after a business vacation in the world of books I reached 1999 to establish the Zervas Art Gallery.
I come from a middle class family from which I acquired the persistence and the ideology touching for the thing and life. When I organize the first symposium I didn't believe that one idea (subversive) could get the interest and support of such big Organizations. 
I was surprised in fact of the close relationship between politics and art. Art is politic… culture is the future political ideology…
The success of the first Event institutionalized the International Painting Symposiums and the continuous development.
I don't like to hope, but the first event gave me that much power so I could continue this dialogue…
The International painting Symposium were organized since 2002. "Patras means homelands" in Patras started to communicate different cultures, different pallets, different religions and different political beliefs, the axis was art. Communication is based on art not on speech.
The dialogue that opens with art from country to country, from artist to artist is based on the language of art that is primordial and native language to the human kind irrespective the origin.
The point of the symposium is the intervention of art as axis of communication between people and countries not noticing the similarities and differences . Also the Symposiums simulate with art to revolutionize complacent societies and consciences
The objective of the symposium is elastic and multilateral, the important point is that the artists from any country all over the world have the ambition and dream to visit Greece and taste parts of the ancient and Modern Greek culture. Also, a history is created that can't be performed with words or with art critics but with the artworks that are added to the collection of Zervas that consists today up to 8.000 artworks.
The remarkable artworks that create the artist from 80 countries are exposed in big and important exhibitions that are hosted in different countries.
The decision to launch the Symposiums comes from the personalize need for artistic action without borders and simultaneously repealing the cultural boundaries. The organization started with the belief that art is the communication language between people and countries despite the similarities and differences.
Also I believe that art is an integral part of the human dignity. It was a thought and an argument that found immediately the support of big international organizations as UNO, UNESCO,  Action Aid, Green Peace, MSF(Doctors without Borders), Universities and Academies of fine arts, Ministries in Greece and other countries and Embassies of the countries that participate.
ZHAM MAGAZINE INTERVIEW
by Anna Givargizian

In general the results and success of the International Painting Symposium overcome in much my expectations, a fact that cause new and important requirements and conditions needed for the continuous and success of the institution.
My personal expectations were and are still undefined. Today, after 23 years I can't say something about personal expectations… I don't know…
The subject with the International Painting Symposium is elastic… but I never expected anything more and actually happened… a big international workshop of art with an amazing communication… and creation. The coexistence of the different!
I think the communication between diversities it's a bigger pleaser than the best wine! I started 1999 approaching art with purely philosophical intention. Art is replacing philosophy and an artist replace philosopher.
The philosophic researches and life itself indicated and proofed to me that art is the end and the beginning of everything…
I love an artwork when it surprises me and when it gave me answers to something I didn't ask.
My preference in Painting is to meet soul and honesty on the canvas.
Everyday something changes… every year… every decade!
I return to all I loved at first and sometimes I travel to somewhere i didn't love yet
Every Artwork enchants me… but not all is art.
I know how the first scripture was for the human kind. The primary need for the first human.
The other forms of scripture followed after thousand years. Art was the beginning and the occasion for all things. What will the history of human kind be without art? What would life be… Would
there be life?
The artworks on the caves from the prehistoric period are modern and important. The tradition begins millions of years ago.
The artists lived with terms and doctrines for many periods of the history. But I believe that art is not conscripted and don't follow the rules. The language of art has for sure grammar and syntax… but I can't consider it as a term… the knowledge is necessary. The talent is innate, grammar can be learned… No, art doesn't obey and have no limits… it wouldn't be art!
ZHAM MAGAZINE INTERVIEW
by Anna Givargizian
The greatest artistic good you're ever gonna live
Organizing large Symposiums is our passion. Since the early start we wanted to enrich you experience, making it meaningful and not just fun and exciting.
2.500 years, from Plato to Zervas Art!
When you participate our Art Symposium for the first time, it transforms your life, and connects you to the people you always wanted to get to know and love.
Live the greatest experience Now!
Are you seeking something different? An opportunity? We invite you to join the world dialogue our community has been having for the past 23 years.
Come with us! Come with the best.
Our Symposiums are held in every country, in every culture and every corner. Symposiums takes place everywhere, in the spirit, in the heart, in the soul at the same time. Don't worry, you will find us!
L I V E   C R E A T I O N
B A S I C   I N F O R M A T I O N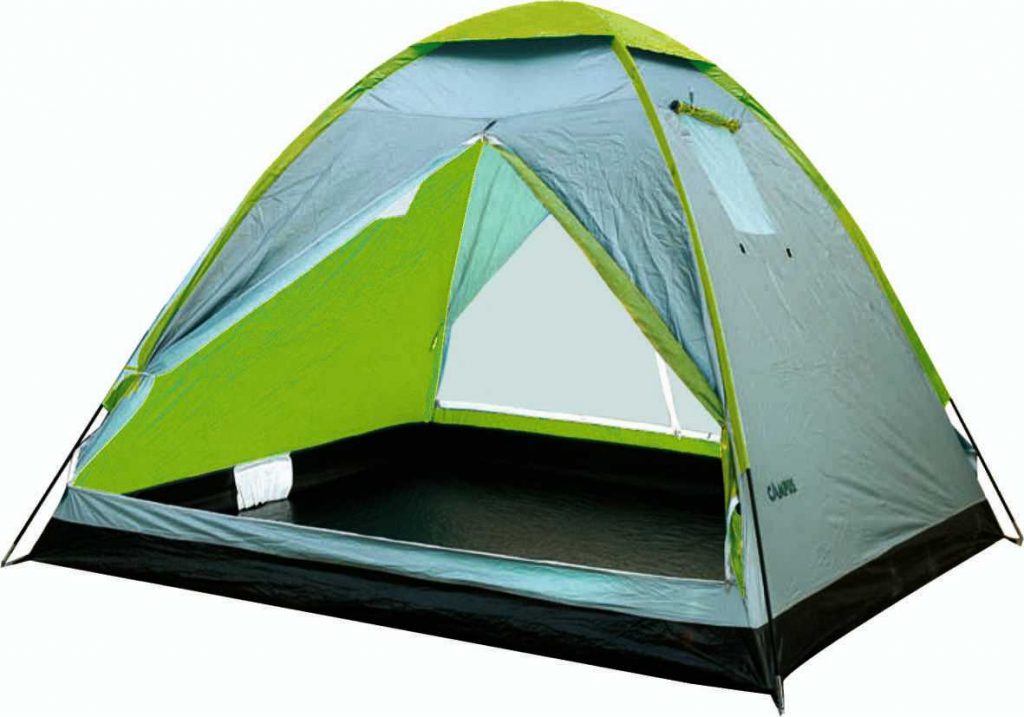 10 days STAY IN CAMPING
Participation Fee:
Artists: 599.90€ 
Visitors: 650,00€ 
Students: 480,00€
1 Camping Tent for 2 people / Individual inflatable mattress & substrate / Shared bathrooms & toilets
1 – 10 canvasses / 1 easel   / * Privet tent: +50€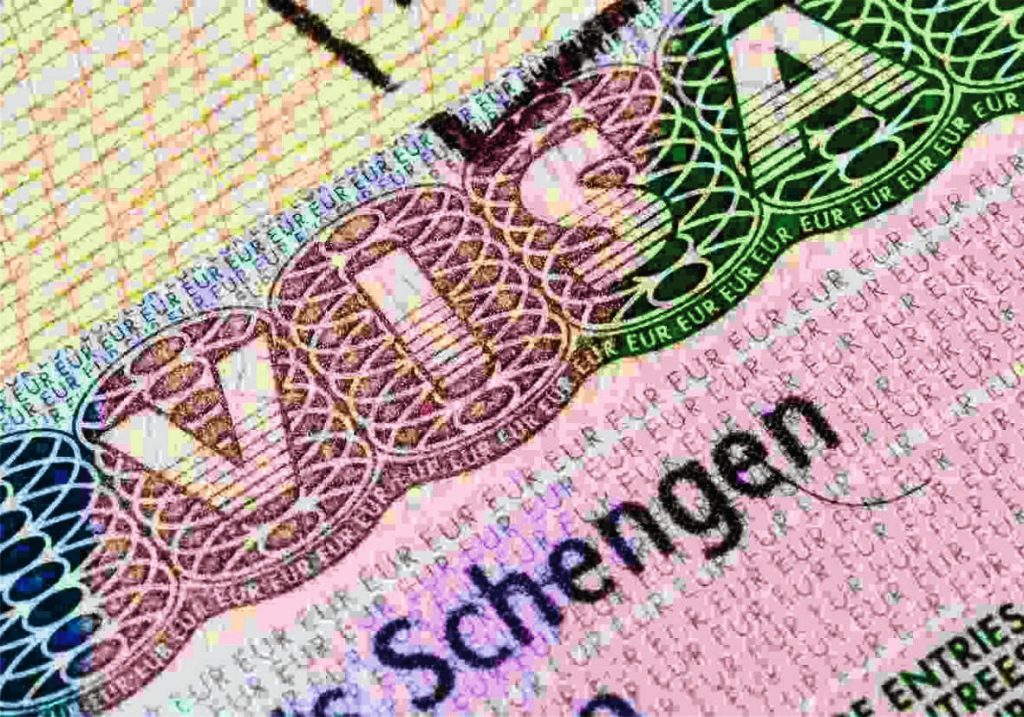 VISA SERVICES  for free
Official VISA Invitation from Zervas Art, UNESCO Club and Patras Municipality.
Hotel Reservation
Official private invitation
4 Confirmation posters
Payment Receipt
Sending of official letters to the Embassy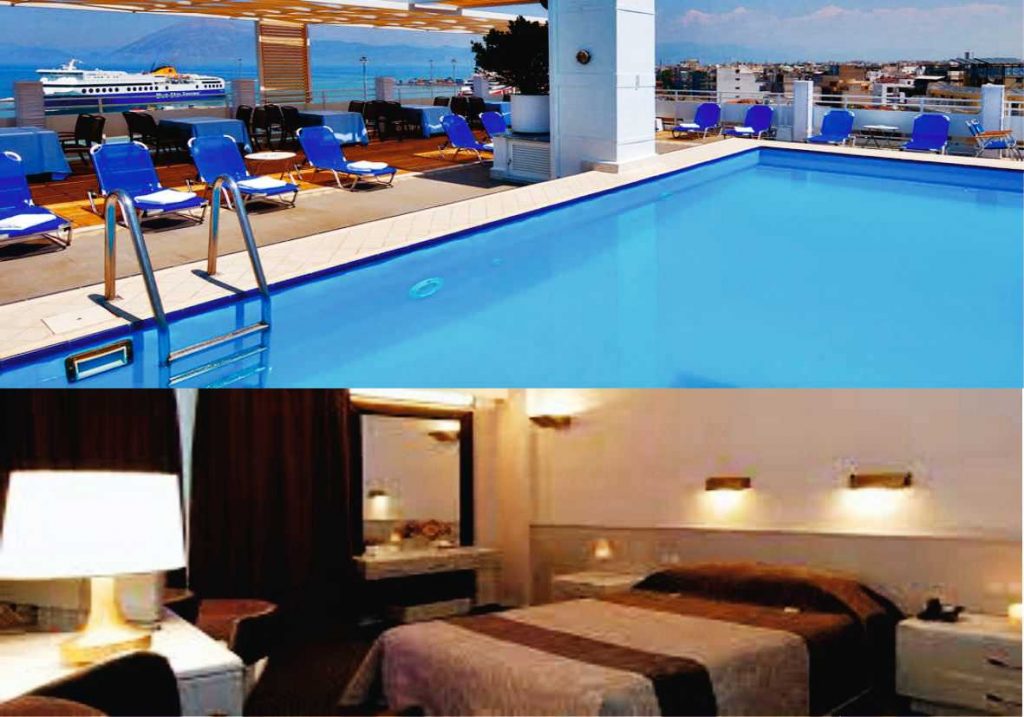 5 days STAY IN ASTIR HOTEL  ****
Participation Fees:
Artists: 790,00€  5 days in double room

Participation of more days: 160,00€ per day
Single room: 55,00€ per day / extra
(Please  choose & confirm your dates)
D A I L Y   P R O G R A M
09:00 Breakfast  |  Symposium
14:00 Light meal  |  Symposium
21:00 Summer Sinema with Greek films
22:00 Party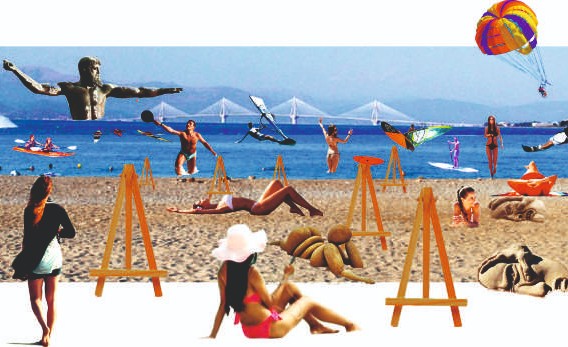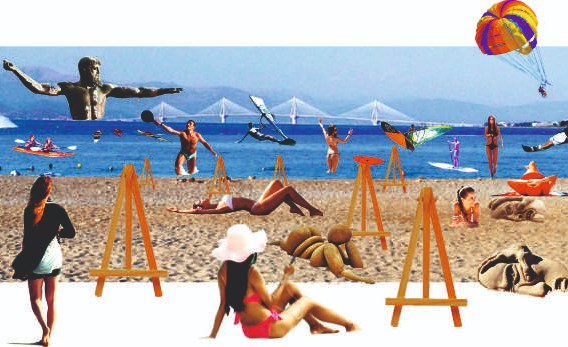 10   Sept   2022
Arrivals in Patras Camping
Reception  –  20:00 Dinner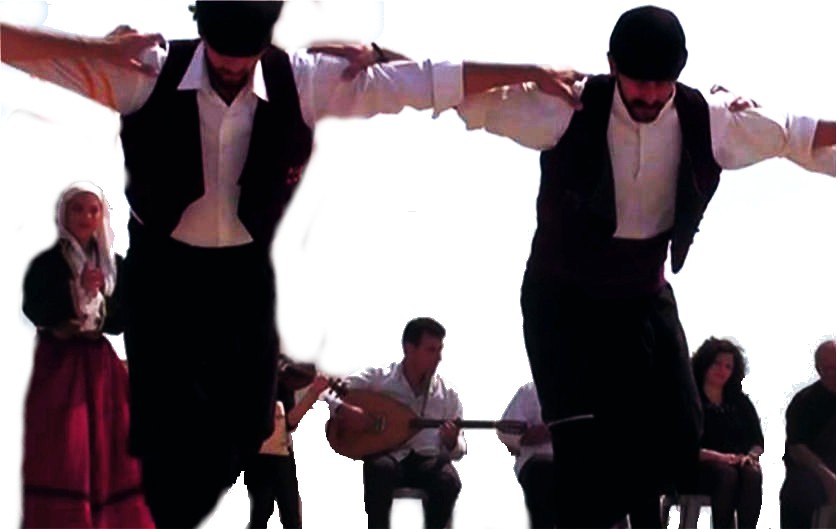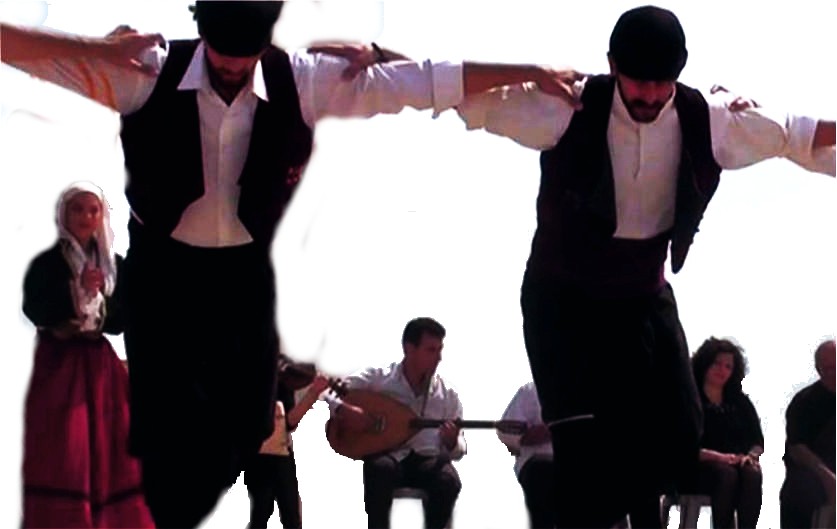 16  Sept   2022
Greek folklore dance event
Teaching of Greek dances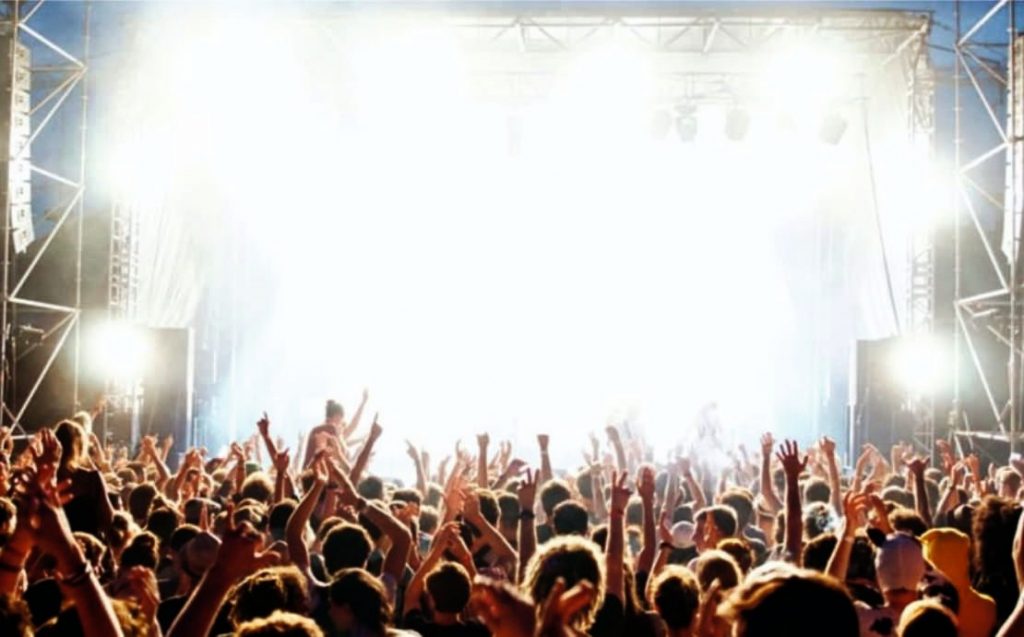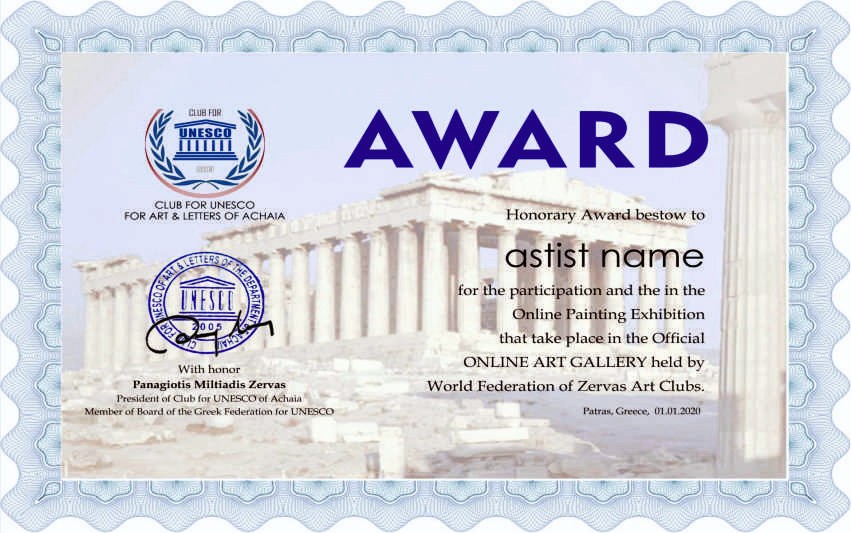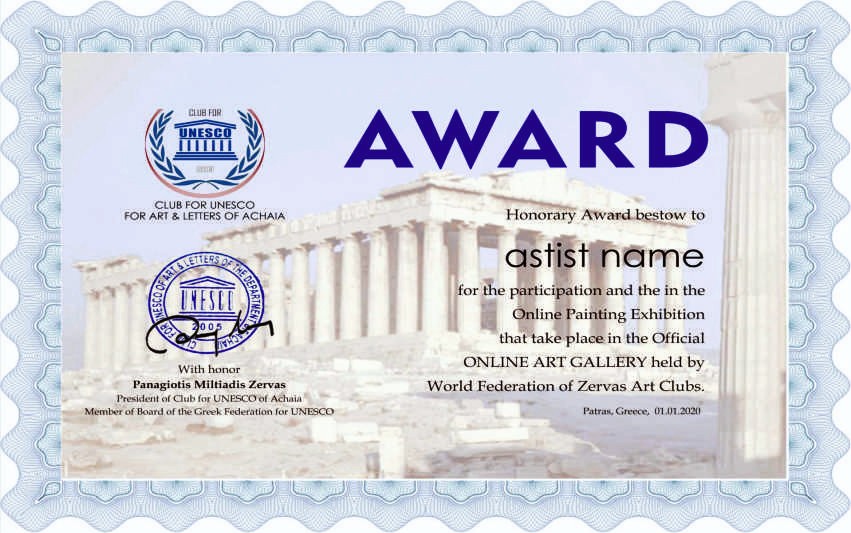 19  Sept   2022
18:30 Certificates, Exhibition
21:00 Dinner, Party
CITY OF  P A T R A S   CAMPING
The enchanting space of the International Painting Symposium "arting" and the beach of Patras are located 3km from the city center. The route is fantastic and is recommended for a walk on the coastal road which crosses cafes, restaurants, taverns and clubs. The camping is located on the sea, with lush vegetation and plenty of space.
Public transport connects the "arting" with the city center every 15 minutes.
The pleasant route is not more than 20 minutes walk and the taxi costs 5 euros.
CITY OF  P A T R A S   BY NIGHT 
Patras (Greek: Πάτρα) is Greece's third-largest city and the regional capital of Western Greece, in the northern Peloponnese, 215 km (134 mi) west of Athens. The city is built at the foot of Mount Panachaikon, overlooking the Gulf of Patras.
The population of its functional urban area was 217,555 in 2011.  The core settlement has a history spanning four millennia. In the Roman period, it had become a cosmopolitan center of the eastern Mediterranean whilst, according to the Christian tradition, it was also the place of Saint Andrew's martyrdom.
Dubbed as Greece's 'Gate to the West', Patras is a commercial hub, while its busy port is a nodal point for trade and communication with Italy and the rest of Western Europe.
The city has two public universities and one technological institute, hosting a large student population and rendering Patras an important scientific centre with a field of excellence in technological education. The Rio-Antirio Bridge connects Patras' easternmost suburb of Rio to the town of Antirrio, connecting the Peloponnese peninsula with mainland Greece.
Every year, in February, the city hosts one of Europe's largest carnivals. Notable features of the Patras Carnival include its mammoth satirical floats and balls and parades, enjoyed by hundreds of thousands of visitors in a Mediterranean climate. Patras is also famous for supporting an indigenous cultural scene active mainly in the performing arts and modern urban literature. It was European Capital of Culture in 2006.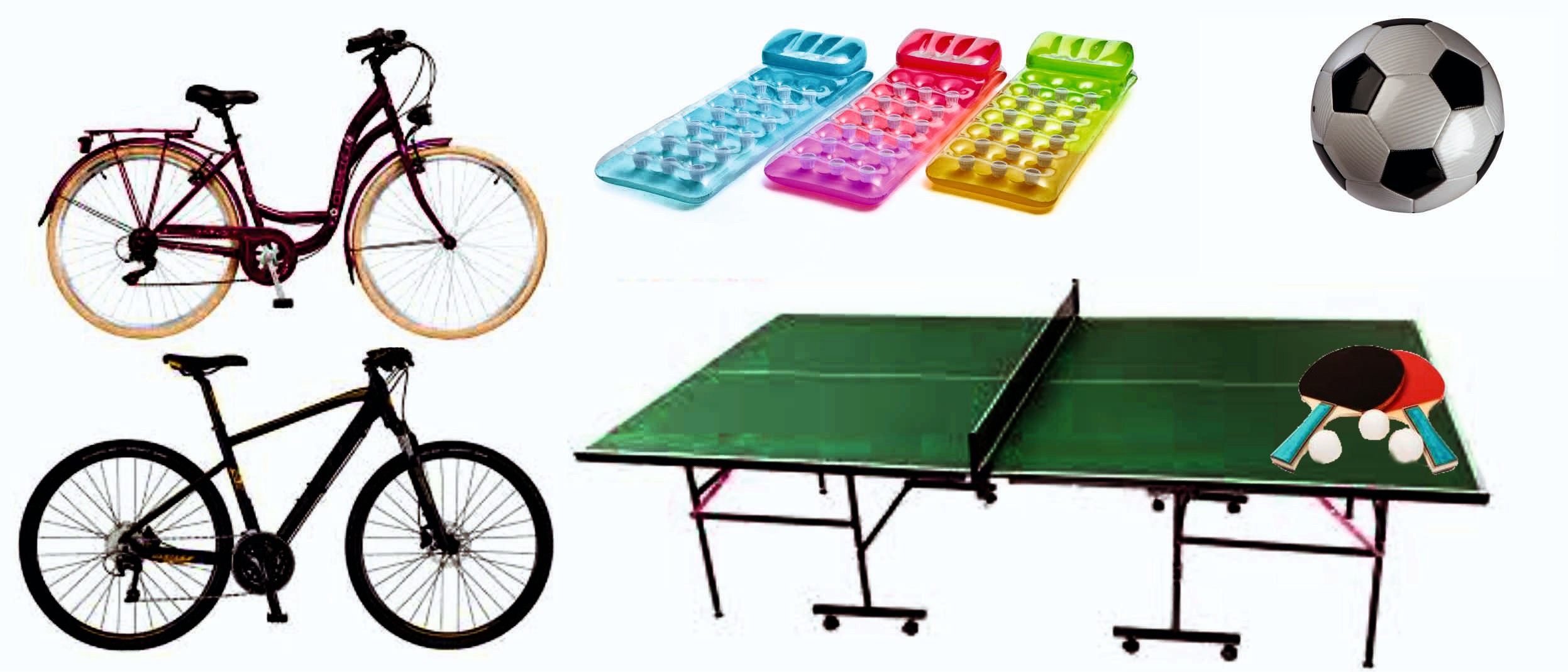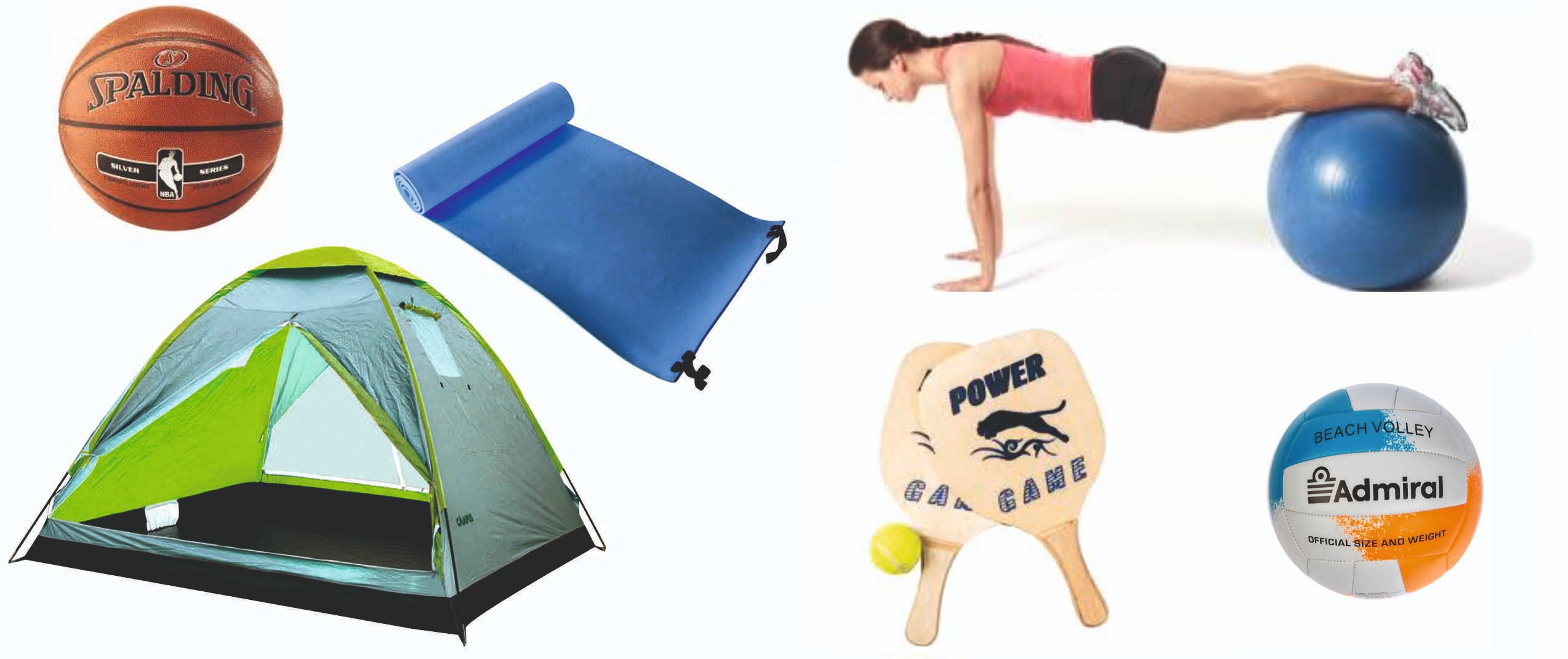 Zervas Art with 22 years of experience in organizing 93 International Painting Symposia, takes care and guarantees that the artistic moments you will experience in "arting" will be unforgettable for your whole life.
We offer you "for free" activities for magical moments with the new friends you will make in the "arting"!
          Tents for 2 people
           Individual inflatable mattress
           Individual substrate
           50 Balls,        100 Rackets
           5 Ping-Pong,        50 Bicycles
Gold Offer & Standard Services for free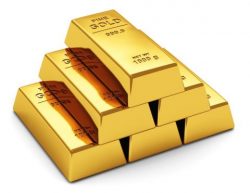 Daily International advertisement until the closing date of the exhibition, with more than 80.000 visitors per day.
Creation of your Online Solo Exhibition – Eshop of 16 artworks  example
(permanently – for free) Value 200 € 
Creation of complete Website with 40 artworks, CV, texts, pictures  example
(permanently – for free) Value 300 €  

FOR FREE
With your participation and payment, the following services are included:
DIGITAL MARKETING   

Invaluable value


Your participatiowill be promoted with 4 extra posters  


WEBSITE PROMOTION   

Invaluable value


We will add you in the Participants page of the Paris website  Look


ZERVAS ART ENCYCLOPEDIA   

Invaluable value


Thousand visitors per day … they can find you  Look
GOLD OFFER ONLY FOR THE PARTICIPANT ARTISTS
Every day Art clients are looking for you on the web! 
Where and how will they find you?
How will the Art buyers buy your artworks?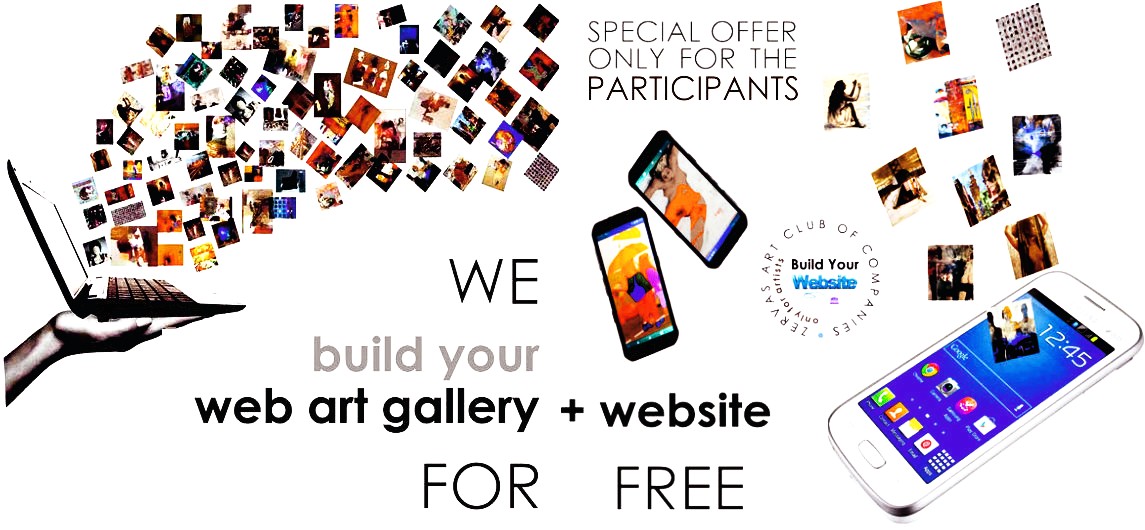 F R E E   H O S T I N G   Permanently 
Your Online Art Gallery will be hosted in 11 web Pages in the largest Web Art Platform: HOME PAGE       PROFILE       GALLERY       E-SHOP       ART ENCYCLOPEDIA        SEARCH COUNTRIES       ARTWORKS      HOUSE       COLLECTORS       PROPOSALS       SPECIAL OFFERS
The Customers will find you so easy…!


F R E E   S E O   Permanently
Because of the thousands artistic webpages and the daily advertisement in Googe, the customers and collectors can find you in the 1st page.
You are not alone in the chaos of internet.
The Customers will find you so easy…!

 
F R E E   A D V E R T I S I N G   Permanently
Daily advertising of the Zervas Art Online Gallery in Google, Instagram & Facebook, with more than 1,5 million visitors / month from 190 countries.
The Customers will find you so easy…!  


D I R E C T   S A L E S   Without Percentages 
Direct sales to your customers whole the world at the prices that you want without control and percentages.


F R E E   W E B   M A R K E T I N G Permanently
We work 24 hours a day with the latest marketing strategies and enjoy the maximum level of success.
Our experience of 23 years allows us to know completely the art, the artist and the buyer – collector.

— Artists are free to use as many easels and canvases as they wish.
— 5 open-air cinemas will screen a. VIDEO ART and b. The most important Greek films.
—  Sound systems will invest the space and artistic activities with the best Greek music and songs.
Daily unforgetable moments
Unique moments of fun with sports and artistic performances will make your stay unforgettable
Daily Beach Party For Free
The beach parties will start every day at 9 pm to offer unique moments of communication and fun.
Many people from Patras will be invited to the beach parties, as well all the artists from Patras.

Daily breakfast
Daily light meal
2 Gala dinners
In Greek mythology, Eros ( romanized 'Desire') is the Greek god of love and sex. His Roman counterpart was Cupid ("desire"). In the earliest account, he is a primordial god, while in later accounts he is described as one of the children of Aphrodite and Ares and, with some of his siblings, was one of the Erotes, a group of winged love gods.  In the earliest sources (the cosmogonies, the earliest philosophers, and texts referring to the mystery religions), he is one of the primordial gods involved in the coming into being of the cosmos. 
Eros appears in ancient Greek sources under several different guises. In later sources, however, Eros is represented as the son of Aphrodite, whose mischievous interventions in the affairs of gods and mortals cause bonds of love to form, often illicitly. Ultimately, in the later satirical poets, he is represented as a blindfolded child, the precursor to the chubby Renaissance Cupid, whereas in early Greek poetry and art, Eros was depicted as a young adult male who embodies sexual power, and a profound artist.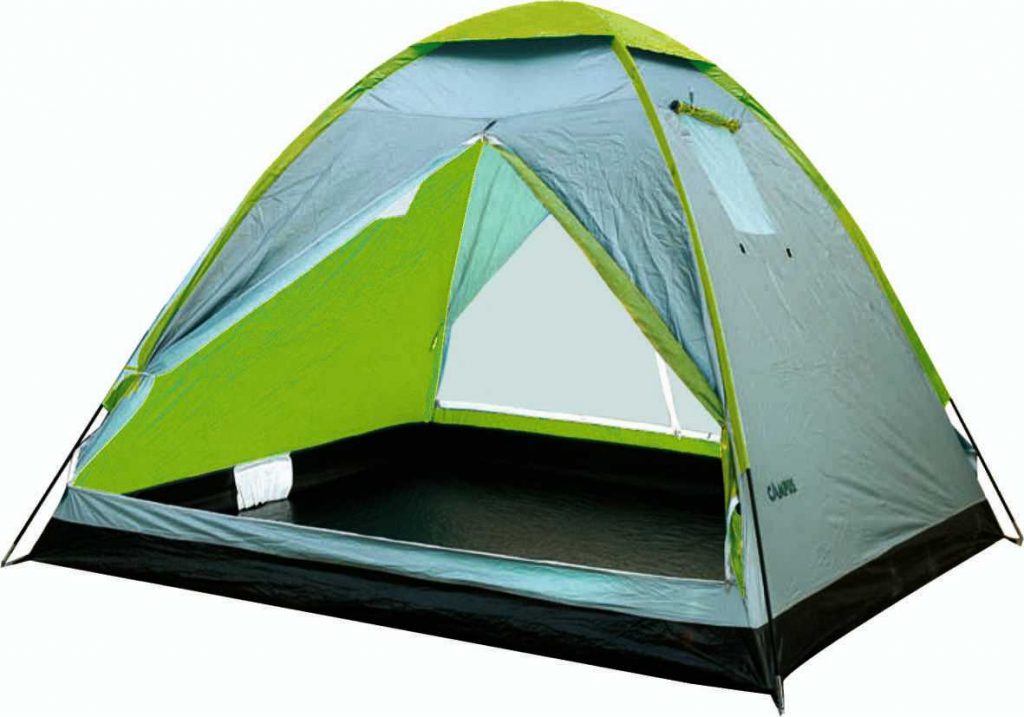 10 days STAY  IN  TENT  &  more
Participation Fee:
Artists: 599.90€ 
Visitors: 650,00€ 
Students: 480,00€
1 Camping Tent for 2 people / Individual inflatable mattress & substrate / Shared bathrooms & toilets
1 – 10 canvasses / 1 easel   / * Privet tent: +50€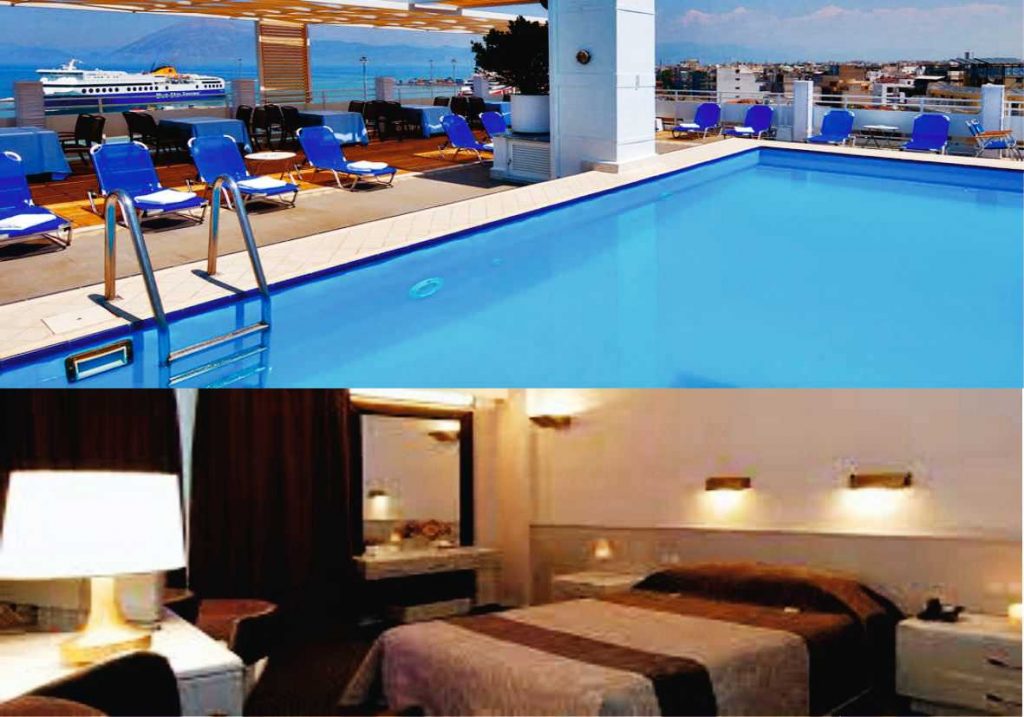 STAY IN ASTIR HOTEL  ****
Participation Fees:
Artists: 790,00€  5 days in double room

Participation of more days: 160,00€ per day
Single room: 55,00€ per day / extra
(Please  choose & confirm your dates)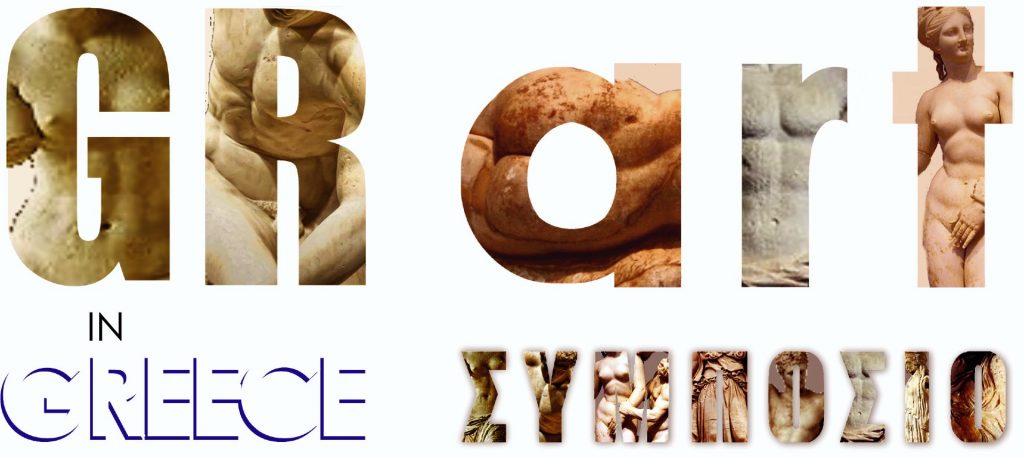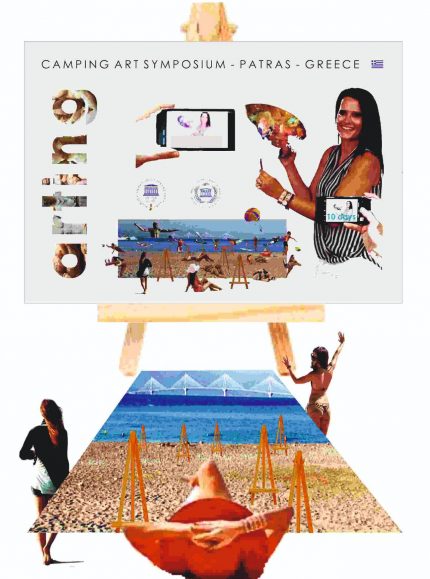 To complete your Official Registration please
send us the  advance of 300,00 euros via Bank:
PIRAEUS BANK
Name: EIRINI ZERVA – PANAGIOTIS ZERVAS
IBAN: GR92 0172 5040 0055 0410 5075 622
BIC-SWIFT: PIRBGRAA 
ID: AH702429   /   Country: GREECE
+30 2610 994 804 
Address: DIONISOU 8, 26500, PATRAS, GREECE
Bank address: KORINTHOU, PATRAS
E-BANKING

To complete your Official Registration please send us the total amount of 300,00 euros via Online payment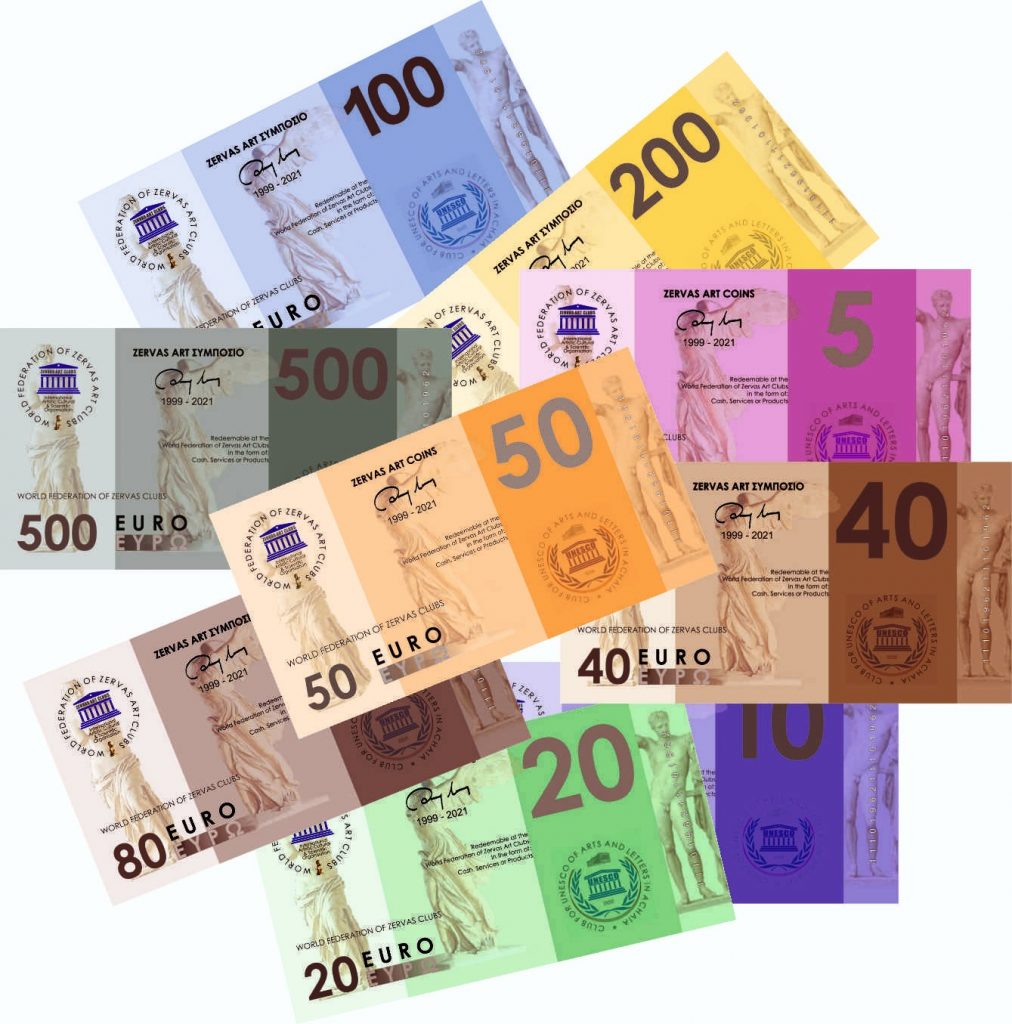 One of the most well-known benefits of volunteering at "a r t i n g" is its impact on the national and international community. Volunteering allows you to support the event and contribute significantly to its success. Spending your time as a volunteer will help you make new friends and contacts fromaround the world, expand your network and enhance your social skills. Volunteering at "a r t i n g" also strengthens your ties with the community and expands your support network.
Volunteering increases your social relationships and gives you the opportunity to practice and develop your social skills within "GR art" , as you will meet regularly with a group of people with common interests.
One of the best ways to make new friends and strengthen existing relationships is to work together for a common cause. "a r t i n g" is a great way to meet new people, especially if you are new to the area. 
REGISTER NOW and live the unique moment


10 ARTISTIC DAYS FULL OF SAFETY
Enjoy your creative stay at "a r t I n g" with the "Zervas Art" guarantee for your safety.
Greece is a country where citizens enjoy the fruits of democracy and live their daily lives in security at every level.
Nevertheless, Zervas Art and "a r t I n g" take care of your universal safety by manning extra services that will give you an unforgettable stay:
1. The University Hospital of Patras is one of the most important in the world in terms of scientific research and services. The distance from the area of ​​"a r t I n g" is 5 km, ie 10 min. The service is free.
2. A small medical team of 3 people will be on site to provide immediate medical attention if needed.
3. The area of ​​"a r t I n g" will be guarded every night by private security.
4. On the beach of "a r t I n g" will provide the services of an experienced lifeguard to prevent any accident.
5. State and municipal police will patrol the area regularly, day and night.
MEDAL  &  CERTIFICATES  &  AWARDS
The 1st NEW YORK ART SYMPOSIUM will be awarded to all participant artists:
3 Valuable Certificates + 1 Gold Medal
23 YEARS ZERVAS ART 
133 INTERNATIONAL PAINTING SYMPOSIUMS
214 INTERNATIONAL ARTISTIC MASTER CLASSES
CHOOSE ZERVAS ART EVENTS & SERVICES