INTERNATIONAL PAINTING SYMPOSIUMS 
The international Painting Symposiums of Zervas Art founded in 1999 based in the city of Patras, Greece under the Aegis of: UNO, UNESCO, Greenpeace, Action Aid, Medicines Sans Frontiers with over 6.000 professional high level participant artists from over 70 countries. It Is a live artistic – scientific project which supports the communication between countries and people despite the differences or similarities.
Distinguished Artists and Professors from the whole world create in parallel, communicate, collaborate and live together the great artistic experience under the dialogue with the maternal language of ART. The Unforgettable moments is the base of the Academic Congress which supports the creation faced with the "white canvas".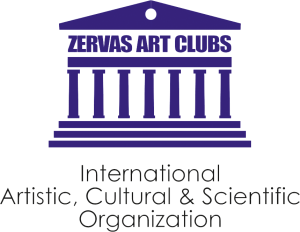 At 2017 created the "World Federation of Zervas Art Clubs" and today is based in 27 countries with 30 Zervas Art Clubs.
ABOUT ZERVAS ART
"Zervas Art" from 1999 since today is activated into 160 countries, having scratch out an important and continuously arisen route. In addition, have created an international stream of art and artists, which influences or/and directs, in many cases, the international market of art. 
2006 created  the International Scientific Artistic Committee (I.S.A.C.), which is constituted by 20 artists/professors from Universities of fine Arts from 20 countries, which hold meetings frequently for the program, the research and the important matters which concerns .
Symposium founded in 1999 and every year organize 12-15 symposiums and participate almost 500 selected and internationally awarded artists/professors from Universities and Academies of Fine Arts as well. 


GUARANTEES
The official Auspice from the greatest International Organizations is the guarantee of the amazing artistic experience in the history of art.
The official Artistic Symposiums 

in the history of  art

More than 8.000 professional high level artists from over 120 countries have participated until today.
It is a live artistic – scientific project which supports the communication between countries and people despite the differences or similarities.
Distinguished Artists and Professors from the whole world create in parallel, communicate, collaborate and live together the great artistic experience of the dialogue with the maternal language of ART.
The belief that art is awakening and revolutionizing hypnotized societies and consciences is the base of the Academic Symposium which supports the life creation on the "white canvas". 

Official Visa Invitation Letter
The international Painting Symposiums  founded at 1999 in Greece from the "Zervas Art" under the Aegis of: UNO, UNESCO, Greenpeace, Action Aid, Medicines Sans Frontiers


Welcome to live the different experience in the history of art
GET PRECIOUS CERTIFICATES
for your participation
22 YEARS ZERVAS ART
INTERNATIONAL PAINTING SYMPOSIUMS
MASTER CLASSES
You are in the biggest International Artistic Cultural & Scientific Organization



WE ARE HERE
we are every where  –  we are close to you
APPLY NOW
Get the Privilege  &  Fill the Form 
I confirm my interest to be registered and participate in the artistic works of the
ZERVAS ART SYMPOSIUM