MESSAGE FROM THE PRESIDENT 

of the ZERVAS ART CLUB IN LUCKNOW – INDIA
VINITA RATHAUR
                     
YOU'RE WELCOME TO OUR SPECIAL WORLD
OF ART CULTURE & SCIENCE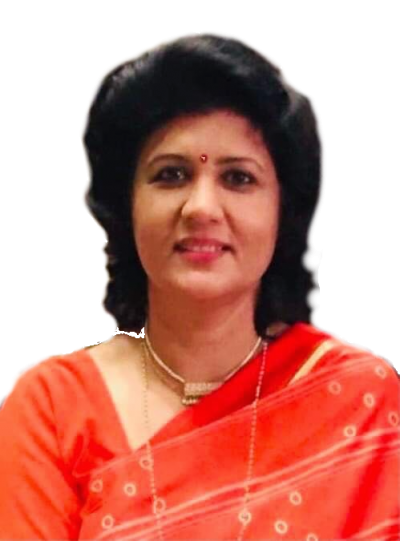 Dear Presidents, partners and friends,
First of all I want to thank from my heart and congratulate the prestigious presidents of Zervas Art Clubs around the world who are the basis of the organization. The World Federation of Zervas Art Clubs was established to become an International Artistic, Cultural & Scientific Organization based in every country and city. The purpose of the Zervas Art Clubs that are set up daily is – through its actions – to awaken uplifted societies and consciences and to add a new "Culture Policy" focusing on the people of every country, culture, religion and mentality. The value table is on a zero basis and the values begin – anyway – to be redefined as a consequence of the multi-crisis in every level. The judgment of values has come as a logical result to confirm the failure of education, visions, politics and, more generally, the systems of administration or demagogy, but also of the doctrines generally. Culture was and is the nucleus where every virtual or real artistic, social, political or religious system is based and hosted. It is now the political solution and the dynamic headline in rebuilding the list of values. Art, on the other hand, is the primary factor of civilization. Art is preceded by everything, and it is a irrational answer but also a deeper approach to the mystery of human existence. Culture is slowly following it so that with effort and blood it will be possible to create the new table, which will be characterized by the everlasting values of a true reality. International Artistic, Cultural and Scientific Organization "World Federation of Zervas Art Clubs" invites and selects dynamic and distinguished presidents for the establishment of Zervas Art Clubs around the world, presenting a Pioneering program in every country and city.
YOU'RE WELCOME TO OUR ORGANISATION
to be Presidents in your Countries, Regions, Cities
HUGE OPPORTUNITY FOR ARTISTS!
A big hello to all my artist friends…!
I am delighted to share that I have been conferred the Presidentship of the Zervas Art Club in Lucknow, India.
WFZAC has organised events, symposiums, exhibitions at various locations around the globe, including in cities like Paris, London, New York, Athens, Rome & Florence (Italy), Prague, Moscow & Saint Petersburg, Santorini, Mykonos, Crete & Thessaloniki, Patras (Greece), Casablanca (Morocco), Barcelona, Cairo, Istanbul, Abu Dhabi, Dubai,  among others.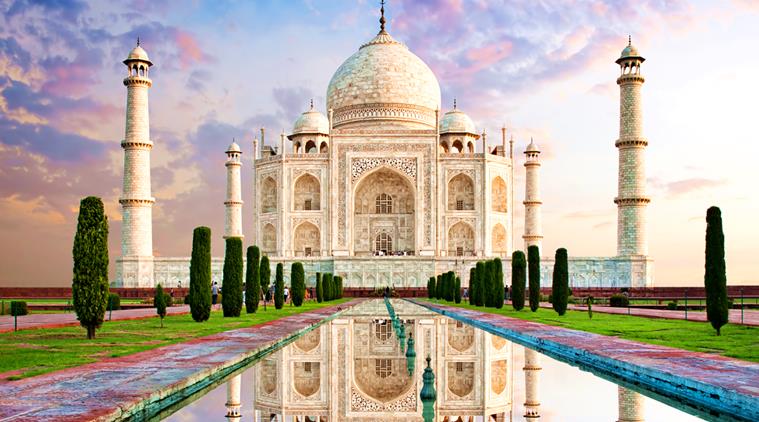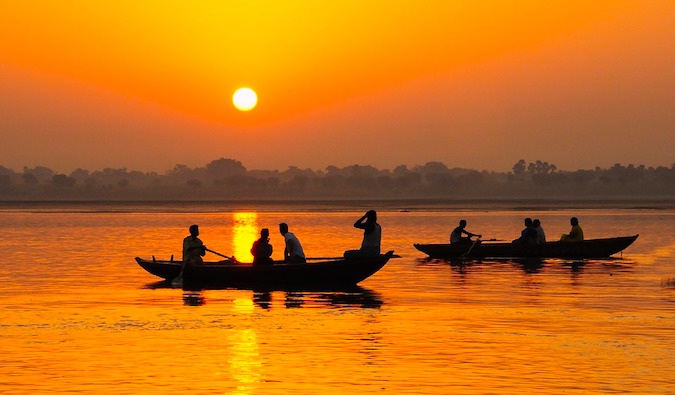 CV OF THE PRESIDENT VINITA RATHAUR
I am a self-taught artist and have explored varied mediums like Oil, acrylic, charcoal, soft pastels and the like and enjoy all of them
I've explored many genres of art and have come to realize that I have a special love for Still Life!
I feel that this genre allows me to look at un assuming household objects even and translate them into beautiful art forms on the canvas portraying their simplistic charm!
My love for ceramics especially blue and white Chinioserie artefacts can be seen in most of my still life paintings. I have an unpretentious style of painting marked by my penchant for fine detailing work, precision and honest adherence to the technical aspect of the subject.
All my compositions have been inspired from my personal collection of artefacts at my home.
I've had the good opportunity of assisting a senior art curator with his art events the last 2 years in New Delhi which has been a wonderful learning experience for me and one I've enjoyed thoroughly
I am also an admin of one of the very popular art groups on Face book which is called Enthusiasts of Art!
I have had the good opportunity to exhibit my work In many exhibitions and they have been well received by collectors from Delhi and other places too !
I have exhibited at some of the following venues.
– A series of exhibitions at the:
– ITC Sheraton New Delhi
– Colorama at Vivanta by Taj New Delhi
– isual Art Gallery IHCNew Delhi
– pen  Palm Court Gallery IHC New Delhi
– Lokayata Art Gallery Hauz Khas New Delhi
– Taj City Centre. Gurugram
– Hudco Art Gallery. Bhikaji Cama Place New Delhi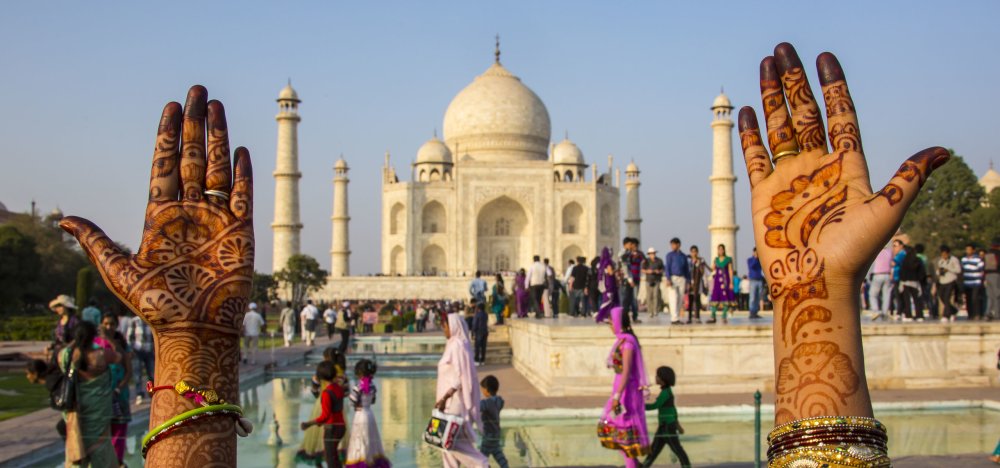 AARTI AHUJA  New Delhi, India
ADITYA NIBHANAPUDI   London, United Kingdom 
AMBREEN MEHMOOD Riyadh, Kingdom of Saudi Arabia
ANNURADHA MALIK  Bangalore, India
ANUPAMA TRIGUNAYAT  Gurugram, India
COL. PATANJALI, Veteran Pune, India
EFTHIMIYA KONTOMARI   Corfu, Greece
JYOTI SATEEJA   New Delhi, India
LESLIE FIESTAN  Riyadh, Kingdom of Saudi Arabia
MARSHA WILSON  Texas, USA
MEHREEN ALI  Riyadh, Saudi Arabia
NANDINI VERMA            Durg, India
RITUPARNA MONDAL Kolkata, India
ROOHY KHAN Riyadh, Kingdom of Saudi Arabia
SHANTALA PALAT       New Delhi, India
SIMPLE M PANI   New Delhi, India
SUPRIYA DOGRA  New Delhi, India
VALERIE VINCENT   Lyon, France
VANDANA SHARMA  Chandigarh, India
VINITA RATHAUR Lucknow, India
Abnesh  Bansal
Ajnabh  Kiev
Anjali . N. Harnahalli
Annuradha Malik
Ansh  Batra
Anupama Trigunayat
Ayesha Taleyarkhan
Deepa  Soni
Dr. Archana  Chowdhary
Efthimia  Kontomari
Elmadani   Belmadani
Hrusikesh  Biswal
Jiji Paul


Jisha Sameer
Laura Elena Fernandez 
Marsha  Wilson
Mukti    Bhowmik
Nilesh  Gupta
Priya Yabaluri
Raj Kumar
Ramya Swamy
Rritu  Goel
Rituparna Mondal
Sarojini   Datta
Valerie   Vincent
Vineesh  Kumar
INTERNATIONAL ONLINE ART EXHIBITION 
15 th  — 18 th   September 2023 
Curator:  Vinita Rathaur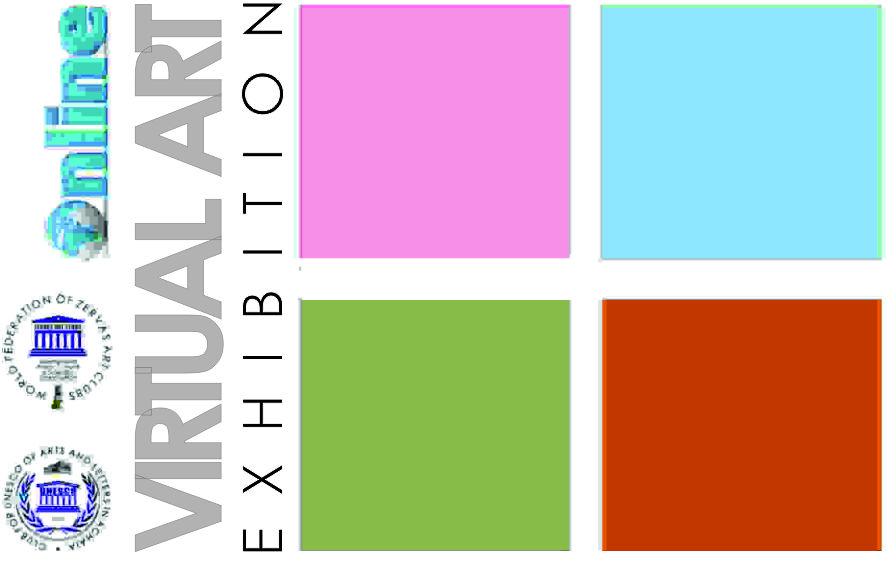 PARTICIPANT ARTISTS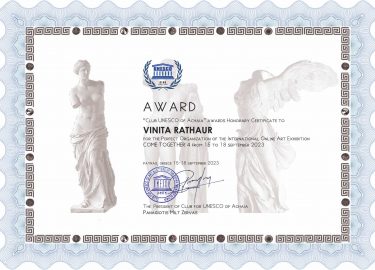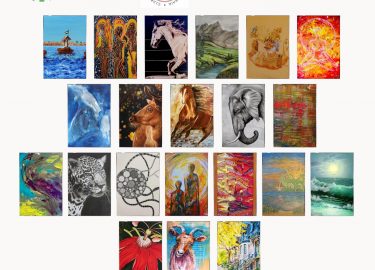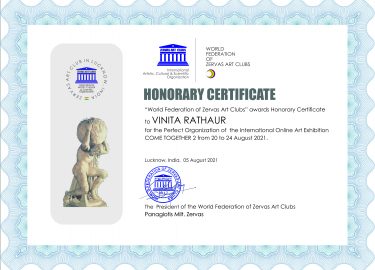 Curator:  Vinita Rathaur
President of "Zervas Art Club in Lucknow"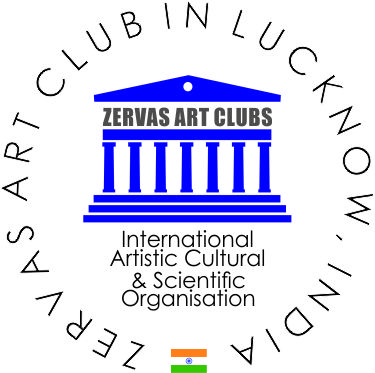 .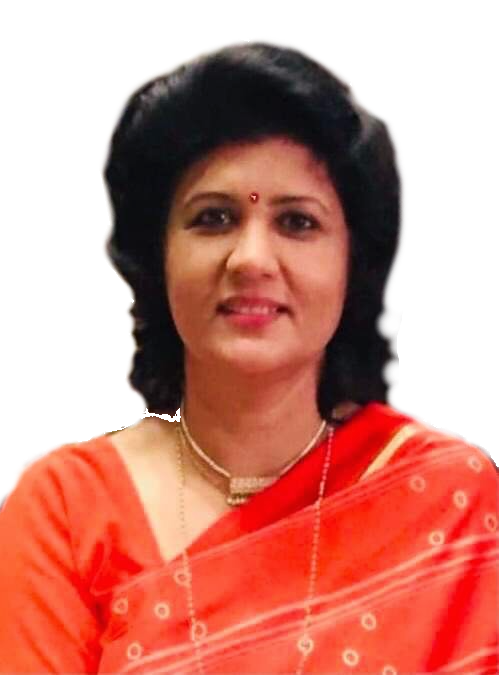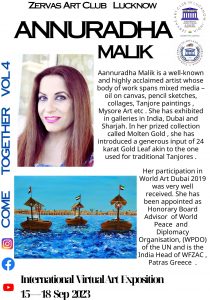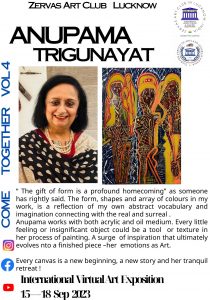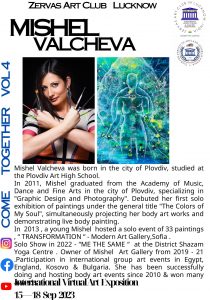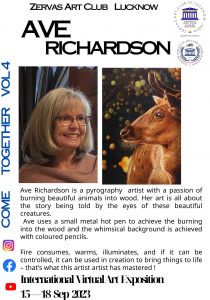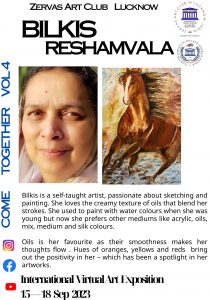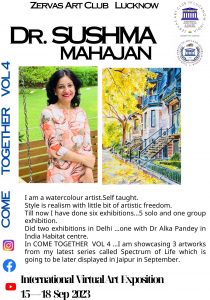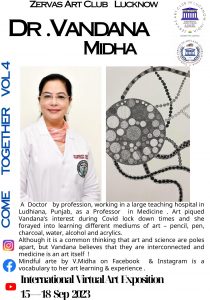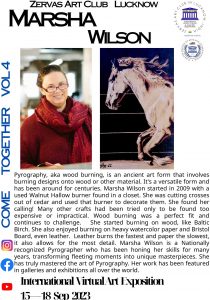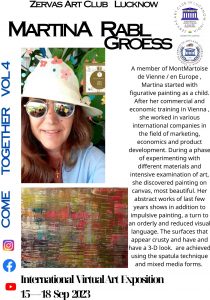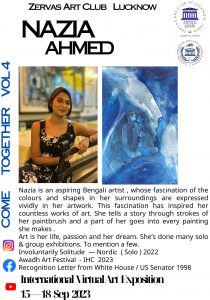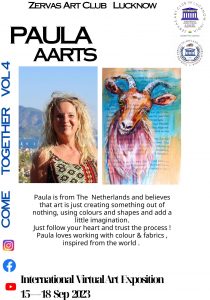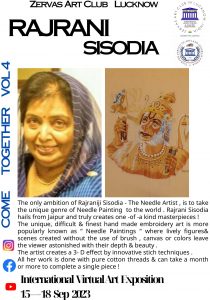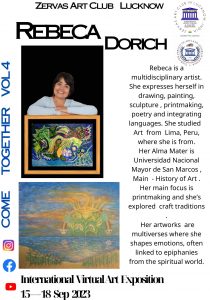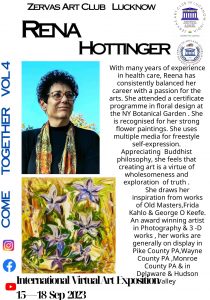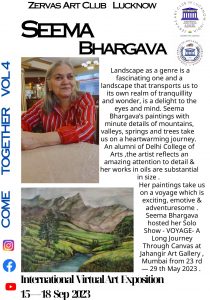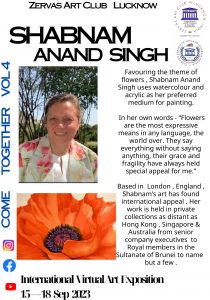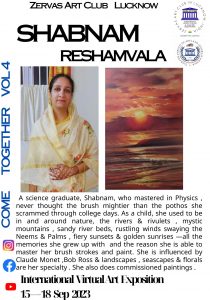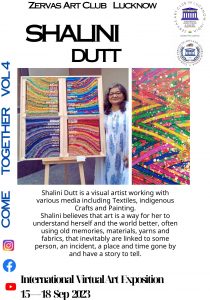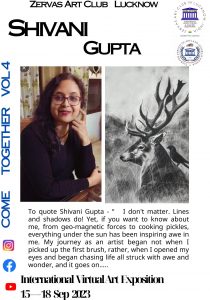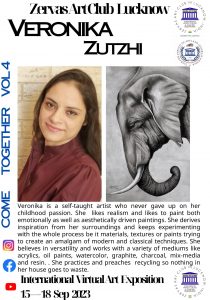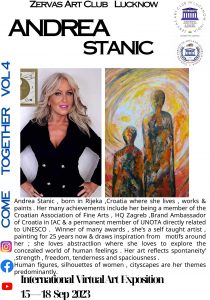 INTERNATIONAL ONLINE ART EXHIBITION
COME TOGETHER 
 Vol 5
coming soon
.
INVEST FOR YOUR NEW LIFE AND WIN
WHAT ARE THE BIG PRIVILEGES OF THE "GOLDEN VISA"
?
.
GET NOW THE UNIQUE CULTURAL FRANCHISE
to be  President of  ZERVAS ART CLUB  in  Regions & Cities of India
[contact-form-7 404 "Not Found"]
CONTACT US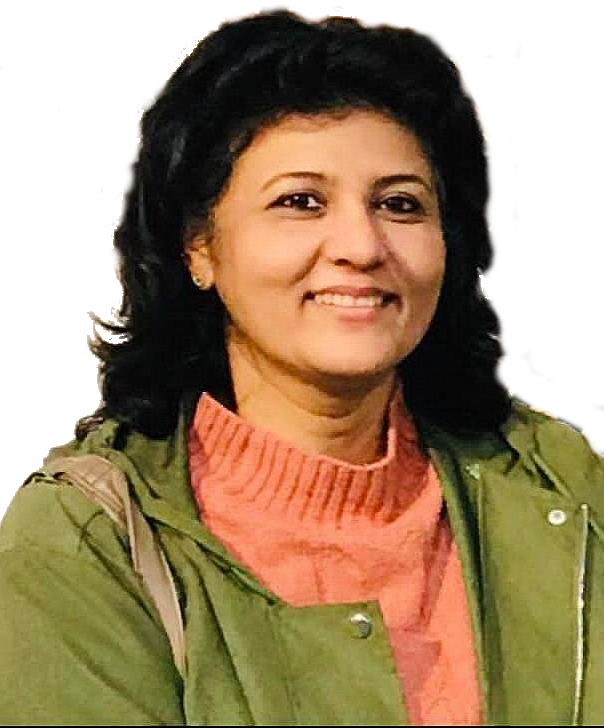 VINITA RATHAUR
President of the: Zervas Art Club in Lucknow,  India
  viniart9@gmail.com
.    +91-8130376007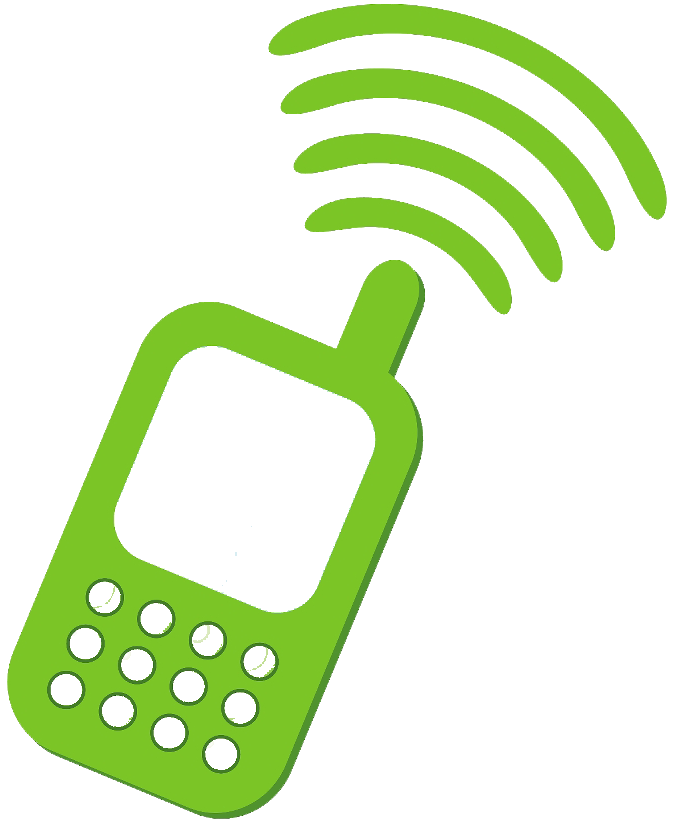 .    +91-8130376007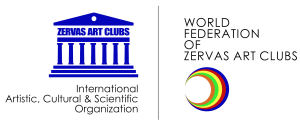 UNDER THE AUSPICE OF