MESSAGE FROM THE PRESIDENT  
of Zervas Art Club in Nigeria
KABIR TONI OSHIAME
Address: No.8, Owolabi Street, Off Adeba Road, Lakowe, Ibeju-Lekki LGA, Lagos, Nigeria.
Tel: 08084022198  |  Mob: 08038803660  |  E-mail: oshiametoni@gmail.com  –  Zervasartclubnigeria@gmail.com
YOU'RE WELCOME TO OUR SPECIAL WORLD OF ART CULTURE & SCIENCE
My Sincere Appreciations  for all your kind  words and responses,  moreso for taking out of your busy schedule to share in my moment of joy,. I'm humbly grateful !!
I Can't find the best phrase to thank the President, World federation of Zervas art clubs, Mr Panagiotis Milt Zervas for the honor and confidence bestowed upon me to found and preside over the Zervas art Club in Nigeria.
I am really humbled for the good gesture, i feel really elated to be in your fold and look forward to saddling the great responsibilities that comes with it , to the best of my knowledge.
To my amazing friends on Facebook whom had been tagging along since the announcement and shared  in my moments of true joy, you're all AWESOME !!!
 I am Very pleased with Mr. Panagiotis Zervas for the confidence and honour accorded me to preside over the Zervas club here in Nzigeria. I am humbled .
Zervas art club Nigeria had come to Stay ! , changing creative narratives and setting new standards for the contemporary art.
Thank you for being REAL!  I Can't thank you enough, you made my day.  Best regards!.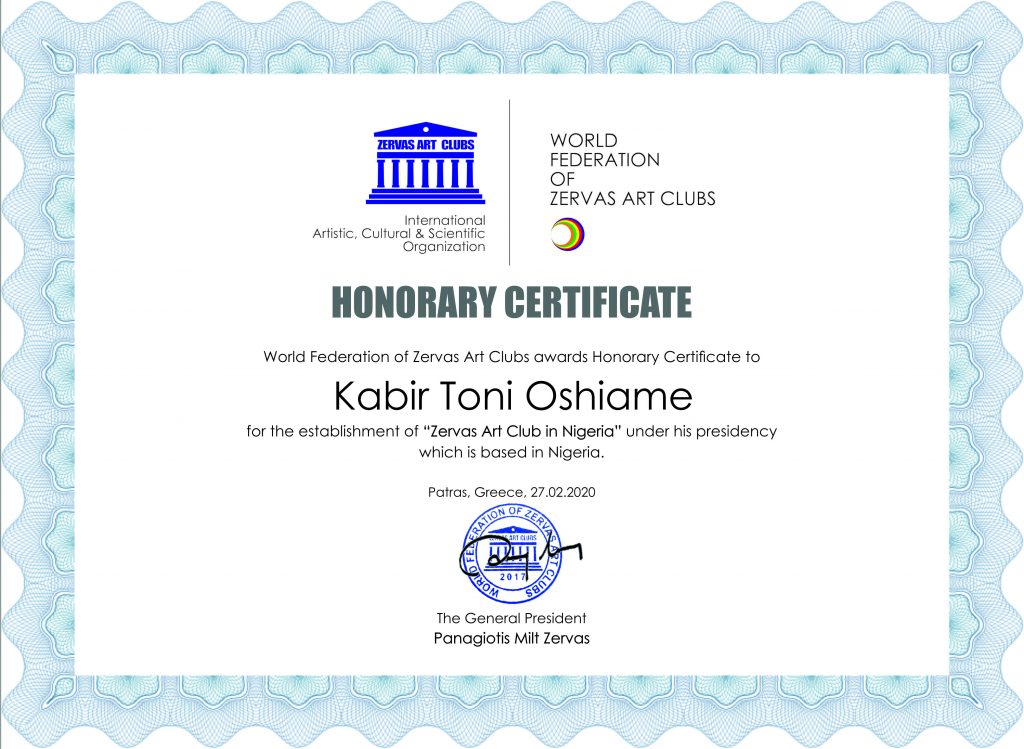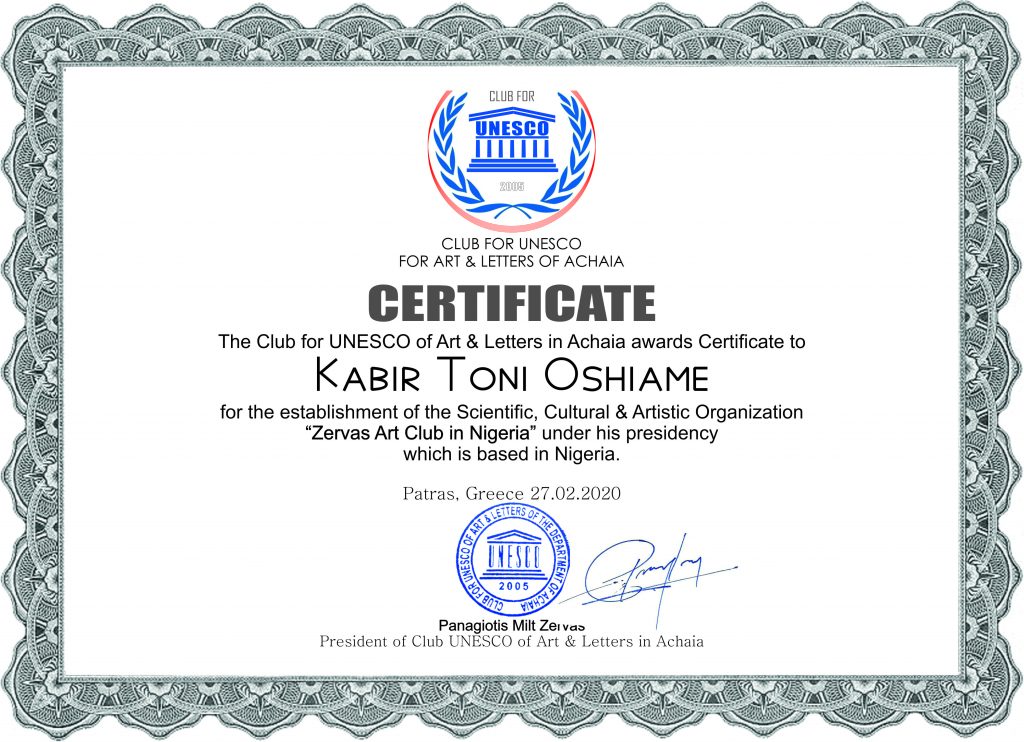 CV

OF THE PRESIDENT

KABIR TONI OSHIAME
Visual Artist
Creative Consultant
PROFESSIONAL DETAILS: I am a full-time artist with several commissions to his credit some of which are Former President Jonathans portrait when he was the Vice-President for his 50th birthday,portrait of the former Speaker of the House of Representatives, Alhaji Massari, portrait of Hubert Charles, Country Representative for UNESCO to Nigeria on the occasion of the UN 60th Anniversary Celebration of the UN house, Abuja, Culture in diversity, a commissioned painting for GTBank Ogun State, just to mention a few.
.As a  prolific painter, Toni Oshiame has a solo exhibition to his credit and has participated in several group exhibitions in Nigeria and outside the country. He works in oil,acrylic and pastel mediums and his works can be found in many private and public collections.
He is currently the founder and president of Zervas Art Club Nigeria and a member of the Guild Of Fine Artists Nigeria.
Text And Articles About The Artist's Work:-  TONI was bom August 28 1968 in LAGOS State, NIGERIA,  and had his Professional education in FEDERAL POLYTECHNIC, AUCHI, EDO STATE where he obtain an H N D in painting.
 He lectured briefly at the Federal Technical College, Orozo Abuja FCT in 1996 before he started a full vibrant Studio practice which he remind committed to till date.
He  was the immediate Vice Chairman, Society of Nigerian Artists (SNA) FCT Chapter Abuja where he was subsequently made the resource person and LOC Chairman for Nigeria @50 during his tenure.
Toni has exhibited extensively within Africa, Europe and America and his paintings adorn the wall of reputable art enthusiast.and had received accolades in the art world .
He is a recipient of several awards in the arts and a member of several prestigious art societies and groups, to mention a few: The Society of Nigerian Artists (SNA) and the Guild of Fine Artists of Nigeria (GFA).
A full-time artist with several commissions to his credit, amongst which are  Fmr President Ebele Jonathan's portrait on his 50th birthday as Vice President by then  D.G for Atomic Energy
Portrait of Dr. Huber Charles , Country Representative for U N E S C O to Nigeria on the occasion of it's 60th anniversary at the United Nations House Abuja Nigeria.
Toni has also executed Special Commissions like: Portrait of one time Speaker of the House of Representatives
Mallam Bello Massari.  And a comisitioned painting, Themed:- "Culture in diversity "for Guarantee Trust Bank Abeokuta, Ogun State . Just to mention a few.
Leisure Interests
 My flare for Nature  and eco-friendly existence had over the years,spur me into writing a thesis on how to integrate and co- habit conviniently into the mainstream of our developmental structure of real estate without recourse to the socio- ethnic,  political and cultural differencies, that had bedeviled their co -existence over the years.
However it is noteworthy that until normardic nature of the Fulani Herdsmen is fully understood and harnessed strategically into the modern day socio- cultural and geographical trends of developments around the North- Central and some areas of the core northern region , the rule of lasting peaceful co-existence would seem to remain but a fleeting illusion to be pursued but never attained.The thesis is designed as a blueprint to profer a lasting solution to the unending communal crisis in these regions if implimented strategically in the robust framework of our ever changing geographical socio cultural values.  The normadic nature of the Fulani Herdsmen given as their lifestyle, make them a continuous migrating settler in search of greener pastures for their lifestocks  which naturally happens to be the bane of their livelihood.   Some extract from my thesis Titled " Fulani Wadoobe,a pocket of ancient civilization and Culture"  .     UNPUBLISHED PROJECT. On Contemporary dynamic real estate stucture, for the sub- Saharan African regions.
My Objectives
My objectives are to create a platform to harness great talent and pilot them towards changing the cultural narratives and enhancing their professional skills, capabilities and knowledge base organisation through symposiums, workshops, exhibitions, residencies and other creative vocations that highlights and recognises a building potential through my content development goal.
Awards
Rector's price for best graduating student from the department of painting and general arts. Year 1995
Society of Nigerian Artists (Anatomy Of An Independence) Nigeria@50 Local Organizing Comittee, October 2010. Award for excellence and meritorious service.
Full Curriculum Vitae
 I  had my secondary education at Hussey College,Warri,Delta state. In 1978/83
And proceeded to aquire my  professional training in art at the Federal Polytechnic, Auchi, where i  had my OND in general art and HND in painting. 1990- 1992 / 1994- 96 respectively
As prolific painter, he have participated in several group exhibitions in Nigeria and outside the country. I work in oil,acrylic and pastel mediums and his works can be found in many private and public collections However he has a solo show to his Credit.he currently a member of the Guild Of Fine Artists Nigeria.
Enthusiastic visual Artist eager to contribute to team success through hardwork, attention to details and excellent organisational skills. Clear understanding of  periodic evaluation ,mentoring and training in the visual art . Motivated to learn, grow and excel gave me a cutting edge as lecturer at the Federal Technical College Orozo Abuja in the  fine and industrial art department 1996/97 and had since served in various capacities as consultant and facilitator of projects one of which was the Nigeria cultural village, Zuma Rock Abuja, Nigeria.
Experienced visual Artist with about four years of experience in the Creative industry with excellent reputation for resolving problems, improving customer satisfaction and driving overall operational Improvements, consistently save cost while increasing profits.
Ambitious  Creative Consultant with just Four years of hand on experience in the year 2000 varifing transaction information, obtaining payment authorization, scheduling and preparing disbursements. first rate expart at customer communication, data entry and organization. Dilligent and meticulous Professional commended for quickly and accurately learning new procedures.
Results oriented visual Art executive with demonstrated records of accomplishment in streamlining operations, increasing profits and maximizing market penetration. Decisive leader promoting operational Improvements, market expansion and positive corporate culture, as key to Success.
Accomplished visual Artist offering years of progressive shifts/experience in the Creative industry adept at managing Operations, financial Administration in  key programs areas .
Forward thinking Senior Executive with proven records of accomplishment as the immediate past Vice Chairman of the F C T Chapter of the Society Of Nigeria Artists Carrier Driven and ambitious Change manager dedicated to continuous business improvement focused on enhancing revenue and Streamlining business operations. Dilligent in driving profit maximization through multifaced business approaches. "Anatomy of an Indipendence" an art Exhibition to commemorate Nigerian 50th  independent. Nig@50, where he served as the Chairman local Organizing committee was one of the Auspaces where he exhibited these traits tremendously
Multi-talented Visual Artist consistently rewarded for success in operational Improvements, Experienced in policy development and staff Management procedures, positively impacting overall morale and productivity.
Organized and detail-oriented Vice Chairman with fourteen years experience in Creative Consultantancy and the visual Art, Skilled defining financial capabilities through effective forecasting, projection, Volumes, Operational functions and RFP process. Proven ability to design and impliment optimized practices for increasing productivity and profitability. Distinguished leadership skills with commitment to increasing customer satisfaction. Which earned him the Award for Excellence and Meritorious Service by the Society of Nigerian artists in 2010 on the event of Nigeria@ 50 , anniversary project.
Performance- driven, Strategic thinker, problem solver, Leader with twenty three years of experience, aligning system with business requirements, policies with regulatory requirements, passionate in applying Excellent Organization and communication skills to lead teams in implimentation and solutions, with Demonstrated ability to exercise outstanding independent judgement, decision making, Creativity and initiative. Result-Oriented in interfacing and Consulting on business processes that drives results based on sound overall business judgement.
Business driven individual with more than twenty three years of Consulting for cultural and Creative Organizations Determined and experienced in clients rapport, Demonstrating sound judgement and employee mentoring and coaching.
Strategic-thinking Executive Experienced in supporting corporate initiatives , attending trade shows and clients meetings. Offers engaging and pleasant personality with expertise improving customer relasionships.
Decisive Executive Experienced in impacting business direction and performance with successful leadership Strategies, Tactical decision making and forward thinking approaches. Proven history of improving operations and boosting financial health through strong leadership.
Details-Oriented Creative Administrator with twenty three years in the Art and Culture industry. Proven ability to build relationships and maintain partnerships with top account to increase overall productivity and grow profit channels, expand network connections by effectively determining and meeting customers needs, implimenting price models and optimizing inventory control procedures.