MESSAGE FROM THE PRESIDENT  
of Zervas Art Club in Viet Nam
TRUONG TRAN 
street: phạm đình qui , ward phú đông , city Tuy hoà , provincial phú yên , country  Việt nam  Mobile: 0983559185   Email: truongart78@gmail.com
YOU'RE WELCOME TO OUR SPECIAL WORLD OF ART CULTURE & SCIENCE
Dear friends,
I am honored to be appointed as the President of "Zervas Art Club in Vietnam".
I am looking forward to gather the Vietnam Artists with the artists from around the world to mix our Art and Culture together. Taking part of this organization will help me
collaborate and communicate with different artists and communities in Vietnam.
Hopefully we will be able to promote Art, Creativity, Science and Culture through out the world all together with the support of friends.
I will work with the "Zervas Art Organization" to support artists and their cooperations to exhibit their talents and creativity across the globe.
Thank you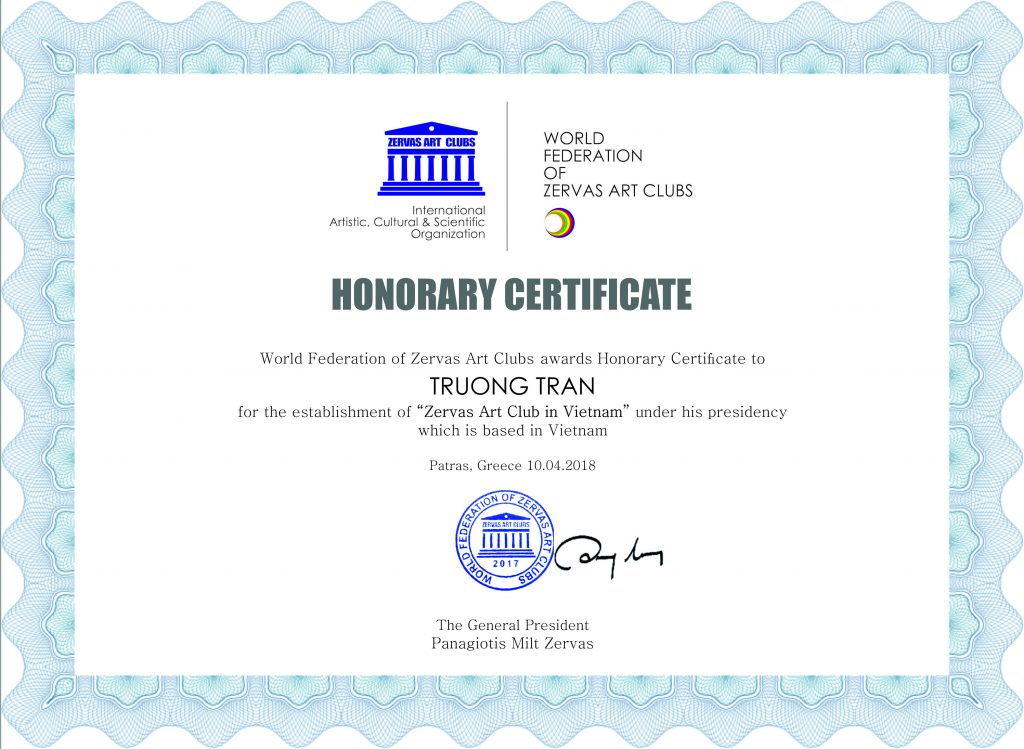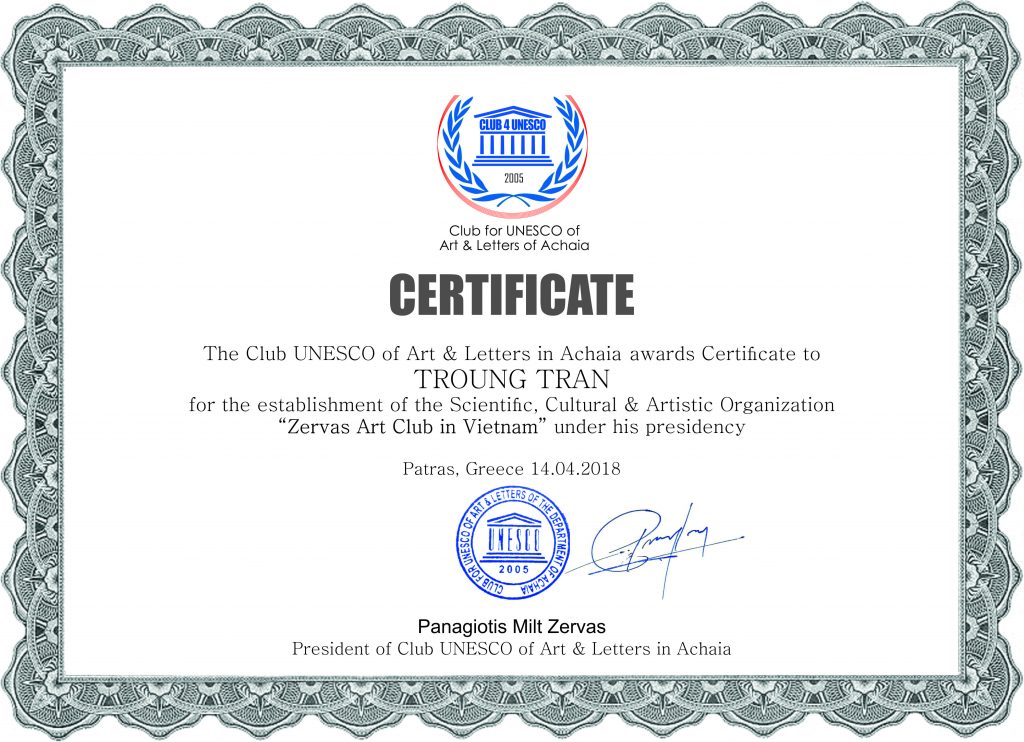 THE PRESIDENT
TRUONG TRAN 
President of Zervas Art Club in Vietnam  |  Visual Artist
Exhibitions in Vietnam
From 2000 -2018 participating in many group exhibitions in the country
Regional exhibition of fine art with the General Political Department of the military in the
military zone 5 for iterature and arts.
Modern art
Beginning in the 19th century, French artistic influences spread into Vietnam. In the early 20th century, the École Supérieure des Beaux Arts de l'Indochine  (Indochina College of Arts) was founded to teach European methods and exercised influence mostly in the larger cities, such as Hanoi and Saigon.  Travel restrictions imposed on the Vietnamese during France's 80-year rule of Vietnam and the long period of war for national independence meant that very few Vietnamese artists were able to train or work outside of Vietnam. A small number of artists from well-to-do backgrounds had the opportunity to go to France and make their careers there for the most part. Examples include Le Thi Luu, Le Pho, Mai Trung Thu, Le Van De, Le Ba Dang and Pham Tang.  Modern Vietnamese artists began to utilize French techniques with many traditional mediums such as silk, lacquer, etc., thus creating a unique blend of eastern and western elements.[citation needed].
Contemporary Art
Nowadays, besides working with traditional material like oil, acrylic, lacquer on wood, the younger generation of Vietnamese artists have become very active in involving different forms of arts, such as installation, performance and video art with many of them attaining international recognition for their artworks and exhibitions worldwide. For example, Nha San Collective (formerly Nha San Studio) – established in 1998, was the first artist-led, non-profit initiative to be run in Vietnam. Nha San studio nurtured the first generation of Vietnamese avant-garde artists
emergent in the early 1990s RMIT University Vietnam art collection is one of the most prestigious collections of contemporary Vietnamese art in the world. This collection is not only historically important, but one that will continue to grow the understanding of Vietnamese culture for generations to come. 
The culture of Vietnam is one of the oldest in Southeast Asia, with the ancient Bronze age culture being widely considered one of its most important progenitors. Due to a millennium of Chinese rule, Vietnam was heavily influenced by Chinese culture in terms of politics, government, Confucian social and moral ethics, and art.
Vietnam is considered to be part of the East Asian cultural sphere.
Following independence from China in the 10th century, Vietnam began a southward expansion
that saw the annexation of territories formerly belonging to the Champa civilization (now Central Vietnam) and parts of the Khmer empire (modern southern Vietnam), which resulted in minor regional variances in Vietnam's culture due to exposure to these different groups.
During the French colonial period, Vietnamese culture absorbed various influences from the Europeans, including the spread of Catholicism and the adoption of the Latin alphabet. Prior to this, Vietnamese had used both Chinese characters and a script called Ch? nôm which was based on Chinese but included newly invented characters meant to represent native Vietnamese words.
In the socialist era, the cultural life of Vietnam has been deeply influenced by government-controlled media and the cultural influences of socialist programs. For many decades, foreign cultural influences were shunned and emphasis placed on appreciating and sharing the culture of communist nations such as the Soviet Union, China, Cuba and others. Since the 1990s, Vietnam has seen a greater re-exposure to Asian, European and American culture and media.
Some elements generally considered to be characteristic of Vietnamese culture include ancestor veneration, respect for community and family values, handicrafts and manual labour, and devotion to study. Important symbols present in Vietnamese culture include dragons, turtles, lotuses and bamboo.
The Vietnamese artists in the collection range from established and mid-career artists, whose works feature in significant exhibitions and notable private collections and public institutions worldwide, to young emerging artists who continue to tackle issues with fresh and new interpretations. RMIT University is at the forefront of creative education and this collection allows bothstudents and the wider community to experience the artistic expression of an important generation of contemporary Vietnamese artists. The art collection is managed by the RMIT Library Vietnam.