MESSAGE FROM THE PRESIDENT  
of Zervas Art Club in Mexico City
LUZ DEL CARMEN VILCHIS
Jaime Torres Bodet 186-4   Colonia Santa María la Ribera   Cuauhtémoc, CP 06400  Mexico City, MEXICO
+52 (55) 55478474      linusviel@gmail.com
YOU'RE WELCOME TO OUR SPECIAL WORLD OF ART CULTURE & SCIENCE
Dear all
Its an honour to inform you all that I have been appointed by World Federation of  Zervas Art Clubs as president of Zervas Art Club in Mexico City.
Taking this great opportunity to declare an open invitation for all artists in Mexico  to share in the establishment, subscription and participiation in our club.
I'd like to thank the World Federation of Zervas Art Clubs  and it's founder Mr. Pansgoitis Milt Zervas for the support and promotion of this affiliated CLUB in
Mexico for propagating artistic , cultural and scientific activities of Mexican artists  across the whole world aiming to propagate their talents and creation to strengthen
love , Art and peace between peoples…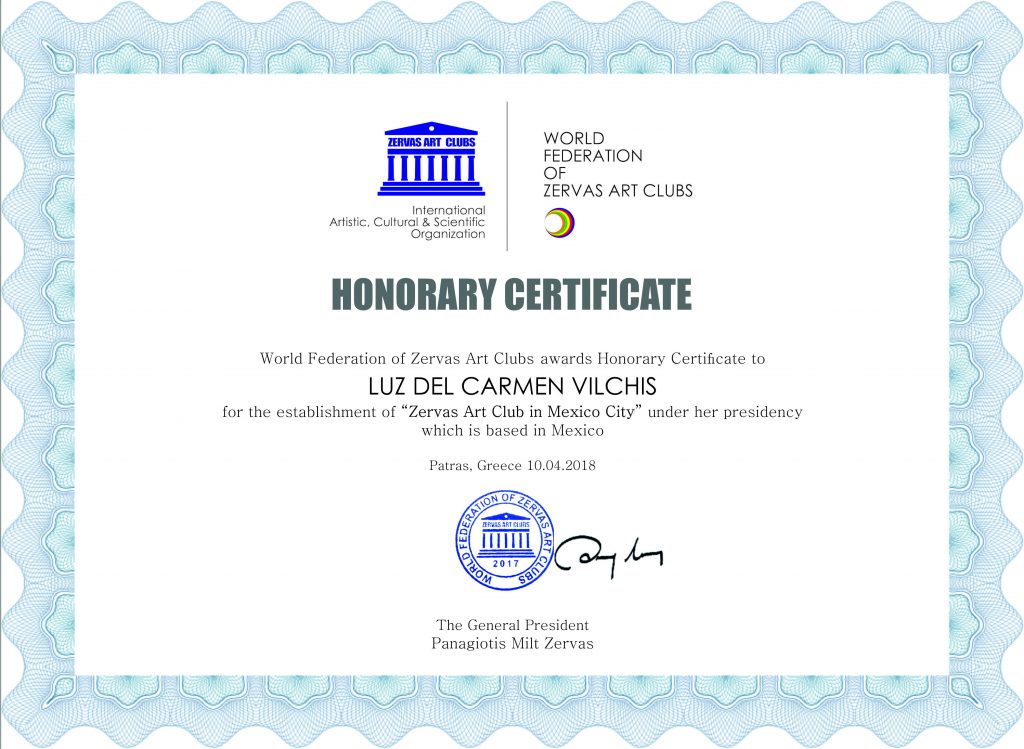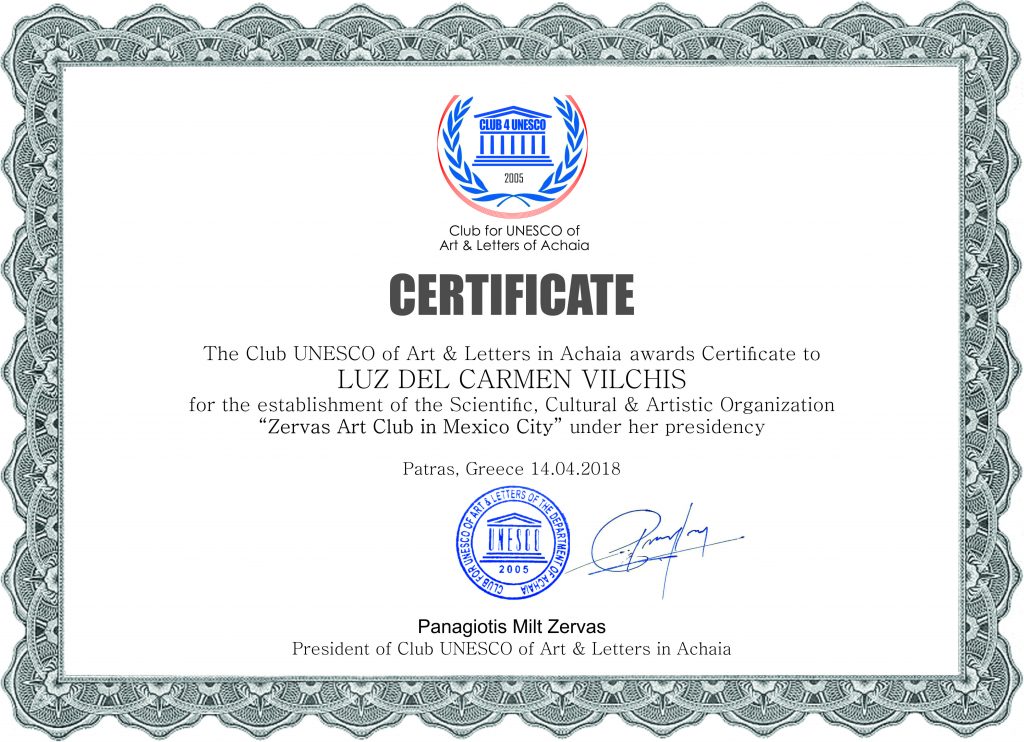 CV

OF THE PRESIDENT

LUZ DEL CARMEN VILCHIS

President of Zervas Art Club in Mexico City

Visual Artist,  Graphic Designer,  Professor,  Researcher,  Philosopher,  Psychologist  and Professional Writer. 

Mexican woman. Professor since 1979 in the Postgraduate Program, Faculty of Arts and Design, National Autonomous University of Mexico (UNAM). National Researcher in National Council of Science and Technology Level II (CONACYT).

Undergraduate studies in Graphic Design, Psychology and Philosophy; Master's Degree in Communication; Ph.D. in Fine Arts UPV-Spain; Ph.D. in Philosophy from FFYL-UNAM; Ph.D. in Arts and Design Education, FAD-UNAM; Doctorate Honoris Causa in Philosophy of Education, Iberoamerican Council, Uruguay.

Ms Vilchis is author of 32 books and 175 international chapters and papers. She is a member of Design Research Society (London), Design History Foundation (Barcelona), Design History Society (London), Franklin Furnace Archive (USA), Lifetime Member de Worldwide Branding, Multimedia Educational Resources for Learning or Teaching (MERLOT, CSU-USA), American Psychological Association (APA), The Professional Association for Design (AIGA), and Associate Editor from 17 Magazines and professional organizations in which she has refereed 234 worldwide projects, books and articles.
.
Pioneer in Mexico in the use of digital resources for arts and design, she organized four laboratories in universities and taught courses to more than 4,000 artists anddesigners. Lecturer and researcher, has given 95 courses and 168 conferences in41 countries. She has directed more than 250 theses.
The professor is a professional graphic designer with awards in Mexico andSwitzerland. She has exposed graphic artworks in 147 collective and individualexhibitions in 53 countries, currently represents Mexico in the International Artist's Book Encounter.
In 250 years, was the first woman as Director of the Arts and Design Faculty ofUNAM from 2002 to 2006. She has received several recognitions: Lifetime Achievement Recognition Academic from the University of Palermo, Argentina 2013; Recognition as Lifetime Member VIP from Worldwide Who is Who Worldwide Branding 2014; Candidate to Sir Misha Black Medal 2015; 
Ambassador of Graphic Design in Latin America, University of Palermo 2015; Feature Global Expert of the Year Research and Lecturing 2015 in Who´s Who Registry and National Award for Superior Teaching in Graphic Design 2016 by the Mexican Association of Graphic-Design Schools ENCUADRE.